Problems with authorities develop. Business ventures meet with hindrances. But the middle part of the year shall help you to wind off. The fag end of the year shall see you rise once again in performance in the career field.
Finance
Finances would be medium or satisfactory for the Pisceans for year 2010. No major financial crunch is foreseen though occasional hiccups cannot be ruled out. Much waited land deals shall pass through. Good gains from investments and speculation probable. Unwanted expenditure needs to be curbed. Clever financial planning would be needed on your part to tide over the crunch possible around the end of the year.
Love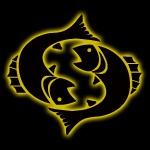 Marriage and family ties shall remain strong for the year 2010. Good tidings are expected from far off place. Children shall bring joy. A marriage in the family shall bring happiness to all. Minor troubles are expected towards the middle of the year. Commitment and better understanding shall bring harmony to your domestic life. Social life shall improve a lot.
Education
The year 2010 would be an exciting year of Pisceans involved in study and research. Success predicted in all endeavors. Overseas travel likely for those having proposals in the pipeline. Financials would also be good enough for your educational moves. Expect laurels towards the end of the year.
Health
Health Pisceans shall enjoy good health throughout the year. The first half of the year would be troubles free while the last half of the year is likely to bring in unwanted health complications. Keep a tab of your diet and avoid unwanted junk food which might affect your health.