Finance
But the later part of the year would be favorable in the career field. Success shall come in bits and pieces. Satisfactory income is guaranteed as also some mental satisfaction. The end of the year shall prove to be a period of less energy for Gemini. In general, the year 2010, would be of mixed fortunes in your financials.
Love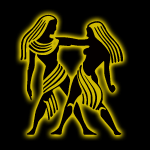 Social and family problems are likely for the year. Unwanted travels and talks are to be avoided for maintaining harmony at home and in marriage. The last half of the year would be a better period to spend with partners. Those aspiring to get married are likely to settle down around the end of the year. Mending fences shall be given preference in love related matters.
Education
Education and Research shall not do as expected for Geminis. More hard work and commitment needs to be put in for better results. Stress and strain shall take a heavy toll on your performance. Due encouragement shall help you to perform well with good results at the end of the air. Travelling is also on the cards for Geminis which would be related to education and adventure.
Health
In general, year 2010, shall give good health for Geminis, though occasional minor health concerns cannot be ruled out. Nervous troubles and stomach disorders are most probable. But for this it would be an eventless year from the health front.