Finance
Finances would also be not good for the first half, though the second half of 2010 would bring in financial stability. Promotions and pay hikes shall elude you for most of the year. Hasty thoughts and actions are to be avoided. Also avoid confrontation with higher authorities in work place else it would land you in troubled waters. Self-satisfaction would be the key for you to remain in one position.
Love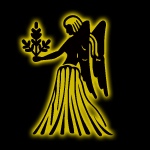 Family and social life would be of mixed results. Domestic welfare and happiness would be affected as there would be constant problems with partner and other members of the family. Utmost caution needs to be exercised for stability in inter personal relations. The first half of the year would be very stressful. Play safe to avoid unwanted tangles in the home front.
Education
Education and research shall help the native to scale new heights. The year would be very successful and productive. Travelling is on the cards for some natives into education. Overall, the year 2010 seems to be a bright and productive year for most aspiring students and researchers.
Health
Virgo shall play it safe in the health front for the year 2010. The first half of the year shall be trouble free and the latter half is likely to cause minor health concerns. Circulatory system needs special care. Stress and strain should be dealt with firmly to avoid unwanted health issues for the Virgo.