Incompatibility is likely to be witnessed with peers and authorities. Unwanted expenditure shall also be a cause for concern. Overseas connections likely to established related to your career moves.
Finance
Finance seems to be satisfactory for the Aquarians for the year. But the middle part of the year is likely to cause some financial crunch. Do not take hasty decisions in financial matters and avoid unyielding investments. Land deals shall fetch some notable gains. IT would take some time for you to attain financial stability. Maintain patience and work out new modes of income generating ideas.
Love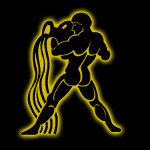 Social and love life would be satisfactory for the Aquarians this year. There would not be any major relationship problems with partner or family members. All round comfort and prosperity shall bring joy in the family. The end of the year shall bring in some problems of misunderstanding with partner/spouse. The last quarter of the year would be favorable for getting married for the unmarried ones
Education
Education and research works shall meet with impediments for the year 2010, especially for Aquarians. Hard work would be needed to keep up the pace with the other members of the zodiac. The last half of the year shall provide opportunities to show case your intelligence and talents. Laurels and awards shall elude for this year.
Health
All health concerns would be sorted out this year. The last quarter of the year is likely to bring in unwanted medical expenditure. Minor ailments shall continue to dog some for the whole year. Wholesome food and better lifestyle practices shall bring in betterment of health for 2010.