The middle part of the year however is likely to pose some problems in career.
Finance
Better financial inflow is assured for round the year.New sources of income shall spring up now and then giving you a financial stability. Try to avoid overspending and keep a tab of your expenses. Do save for the rainy day.
Love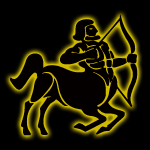 The first half of the year does not seem rosy in the love front. Discords would be common with partners and family members. Caution needed when tacking ticklish issues related to emotions. Dedication and commitment shall see you through rough waters. Challenging times remain for parents with children bringing in unwanted troubles and hardships.
Education
The year 2010 would be a better period of Sagittarians engaged in studies and research. Those in education shall taste success during the first half of the year. Overseas travel likely for those aspiring. Technical professionals can earn fame for their works and research. The year would be a good period provided hard work and dedication are put in relentlessly.
Health
The year 2010 would be a good year for Sagittarians. Major health concerns are ruled out though minor problems related to circulation and nervous system might crop in during the first quarter of the year. Caution needed to avoid contracting contagious diseases.