The planetary positions in your natal chart are good enough for avoiding unwanted troubles and hitches in your profession.
Finance
Investments and speculative deals shall bring lots of profit for the year. Promotions and pay hikes shall be as expected. Hard work and dedication shall get you to the top of the ladder. Avoid unwanted expenditure and an extravagant lifestyle to cope up with any unwarranted changes in the career field.
Love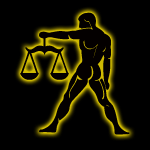 The first quarter of the year would be turbulent in the home front due to lack of proper communications. Relationships would be a major source of concern for the native. But marital relations shall remain strong enough to tide over all problems. Unmarried ones shall get married during the middle of the year.
Education
Students and researchers under Libra shall do well in the year 2010. The first half of the year shall meet all their aspirations. Financial inputs would be a source of encouragement to tide over difficulties in studies. Overseas links in studies also possible. You shall come out with flying colors at the end of the year. Though the year would be a stable period for studies, the end of the year is likely to cause some unstable and anxious moments.
Health
Librans shall command a good health for the year 2010. The second half of the year is likely to bring in some circulatory disorders. But for that, the whole year would be trouble free to spend in relaxation. Keep a tab of your weight and your food habits to avoid unnecessary health concerns.