Hard work and commitment shall give you much financial rewards as well as job satisfaction.
Finance
Financial crunch would be expected all round the year. Avoid unnecessary investments and expenditure. Luxury spending needs to be curbed and go in only for the essentials in life. Towards the end of the year, your previous investments shall start fetching good returns. Expenditure towards improving your lifestyle is on the cards.
Love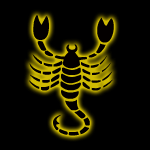 The first half of the year promises to be a happy part with better understanding with all members of the family. Social life would be satisfactory. But the second half of the year is likely to bring in some discords both in the family and in interpersonal relationships. But better understanding shall bring back the charm in your love life.
Education
Year 2010 would be a tough time for those in studies. Many unforeseen problems are likely to appear. Financial hardship arise now and then. But the second half of the year shall bring in some hope. Short travels are on the cards. Those into technical studies shall have a brighter period when compared to the rest. Success shall come easily towards the end of the year.
Health
Minor health concerns are likely throughout the year 2010 for the Scorpios. The fag end of the year is likely to bring in medical problems related to digestion and nervous system. But for this the year would be uneventful. Keep a tab on your diet and relaxation is the key to good health and cheer.