Finance
Financial positions would be satisfactory for the year 2010 for Arians. Those in the financial and administrative areas can expect a marked improvement in their performance. Artistic pursuits and those in hospitality industry shall see a fair development in their career path. The early part of the year would be however be stressful to a certain extent. Speculative and investment options shall not be that good.
Love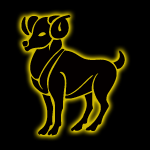 Family and social life would give peace for Arians for the year 2010. The second half of the year would be better when compared to the first half due to betterment of finances. Marital and conjugal life would be satisfactory. Better bonding is expected with near and dear ones. Social life would be good for the whole year. The last quarter of the year would be auspicious for the unmarried ones to settle down in marriage. Improvement to house is also predicted for the end of the year.
Education
Those in Education and Research would find the year a tough period. Success shall be eluding. But the last quarter of the year would be favorable for betterment. Hard work shall pay good dividends. Travel related to education and change of place also foreseen for some.
Health
In general, Arians shall command good health and cheer for the year 2010. But occupational health concerns are likely to arise now and then. A balanced composure and better food shall help you to remain in good health for the whole year.