Finance
But some financial deals shall meet with unwanted delays and hindrances. Joint and partnership ventures would do more good for Leo natives for the year. In, particular, those in own ventures or business shall see good returns than those in services. Sales and marketing individuals would be in for better financial results for the year 2010.
Love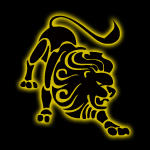 Year 2010 shall bring in much marital and family problems for the Leos. The problems should be handled tactfully else, it would results in disastrous results. Personal relationship should be given utmost care and effort should be taken not to hurt or intervene near ones. The end of the year shall see an improvement in relationship. Better understanding and commitment shall help you to tackle unwanted marital problems. The fag end of the year shall see many unmarried Leos entering marriage.
Education
Education and research shall encounter unwanted problems during the first half of the year. Financial inputs shall not materialize. But the end of the year shall bring success in all endeavors. Travelling is unlikely for the year as also overseas chances of higher education.
Health
Health seems to be satisfactory the entire year 2010, though minor health concerns wouldbe a constant source of worry. Nervous and digestive troubles are most probable. Loss of appetite, lack of sleep, general fatigue are some of the other minor concerns due for the Leo. But good food habits and plenty of rest shall give peace of mind and better health.