Speculation and investment would not repay you as expected. Business deals shall work out well for Capricorns in 2010. Long term goals shall yield fruit towards the end of the year.
Finance
Cautious investment is to be done and keep a tab on your expenditure. Your long term financial goals would be attained. Financial stability would be achieved during the middle of the year. However investments would not give yield as expected. The end of the year could pose some financial problems because of your improper planning. Try to find a solution and tackle the same.
Love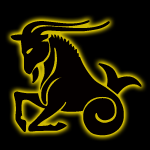 There would be minor hiccups in your love relationship for the year. Financial instability could also pose problems of insecurity. Better communication with loved ones shall see you through all these hardships. Your social life would be good. Major problems are not foreseen for the year, your commitment and understanding shall bring marital and family bliss.
Education
The new year seems to be a better year for those Capricorns who are into education and research. Everything shall turn out as planned. Better goals would be reached. Success shall come out easily. Overseas travel on the cards for those aspiring for higher education. Scholarship and other financial rewards are on the cards.
Health
A sound health and mind are forecast for Capricorns for the year 2010. The first half of the year would be problem free, though the last quarter of year 2010 is likely to bring in some minor health concerns. Stomach and breathing ailments shall surface, but there would not be any major impact on life. Meticulous health plans shall bless with a smart and healthy body for the year.