Finance
Those in the entertainment field shall fare better from the financial point of view when compared to the others. Acting, modeling and advertising areas shall also bring in better returns. The second half of the year would be most promising when compared to the first half the financial area.
Love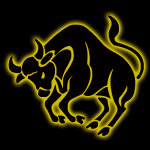 Love life and social commitments shall not be as expected. The first quarter of the year shall bring in unwanted misunderstandings and quarrels in family. Marital relations also get affected due to bad planetary placements in the natal chart. Those who are ready to enter into matrimony need to maintain patience. The last quarter of the year shall be in their favor of settling down in marriage. Social life could bring in some unwanted troubles. Hence maintain caution.
Education
The year 2010, would be very much favorable for those into studies and research. The first quarter of the year shall bring in more success than expected. Scholarships and academic benefits shall come easily. High level of success could be attained by sheer hard work and determination. Some amount of travel is also on the cards for Taurus related to studies.
Health
The year 2010, would not be that good for Taureans. Occasional health concerns shall arise. Breathing and stomach ailments shall bother you. Minor accidents also probable in travel and hence maintain caution, especially during the first half of the year when conditions are not much favorable due to the bad planetary placements.