Investments and speculative deals shall rope in better finances. Those in the field of banking and finance shall reap good returns.
Finance
Expenditure needs to be curbed to a greater extent. Your innovative pursuits shall bring good results in finances. Stability in career and finances is assured and the year 2010 would be a satisfactory year in the professional field for Cancers.
Love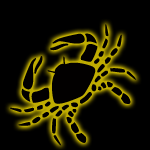 Social and family life meets with impediments for the year. The second quarter of the year would be full of domestic problems which shall bring in worries and anxieties. But the last half of the year shall be better with goodness in relationships. The middle part of the year would be a favorable period for those aspiring to enter wedlock. Love relations shall materialize and conjugal bliss is assured for Cancers for the year 2010.
Education
It would be a tough year for those in studies and research. Unwanted hindrances arise and would be a source of discouragement. But determination and hard work shall ward off the negative impacts. Overseas travel on the cards for those into research and higher education.
Health
Year 2010, would be quite good in the health front for Cancers. Minor health concerns are probable especially related to digestion and nervous systems. Good food and plenty of exercise shall be needed.