Saturn's transit to the 4th house would bring goodness for your mother and improve maternal relationships and gains. Property deals would be quite favorable for you this period and domestic welfare assured for the natives.
Career
Saturn transiting to the 4th house would affect the career of Vrischikha Rasi people as the 7th house aspect of Saturn would fall on their 10th house of profession. This indicates that there would be delays and hindrances for your professional aspirations. Compatibility issues crop up with authorities and colleagues in work place. You would get more work load that you cannot handle and complete. A sense of disappointment and dissatisfaction exists in the career front all this transit period.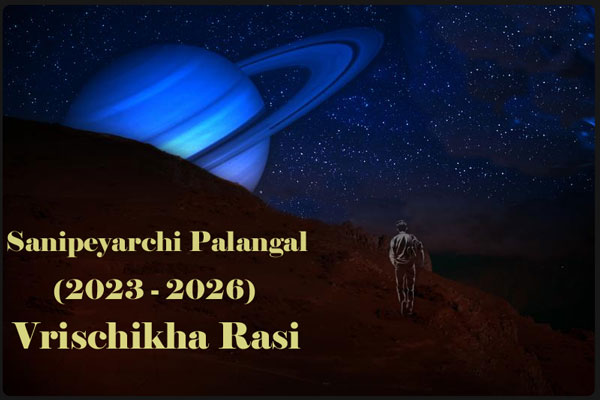 Love/Marriage
With Saturn moving to your 4th house, domestic welfare and happiness is assured. Maternal relationships would be strengthened however there would be occasional rifts with paternal connections. Siblings would be a source of support for you for the period. The single Vrischikha folks would find their ideal mate for life and the married ones would have betterment in their marital life. Partner or spouse would be quite supportive of you in your career too. If at all domestic disputes arise you would be able to sort them out by your wit and diplomacy.
Finance
The financial life of natives with Moon in Scorpio would be very good as Saturn transits to their 4th house. Much gains and profits come for you. If into business, it would grow as also your services. Good flow of resources promised for the transit period with ample opportunities to further your investment plans. Land deals would materialize and some of you would be able to buy your dream home or luxury car during the transit period. However be wary of where your money goes and avoid unwanted expenses.
Education
Virshcikha Rasi students would do well in their studies during this Saturn transit. They would be able to concentrate and focus well on their lessons and would come out successful. Those into research works and higher studies would find better scope for now. They would also fare well in their tests and exams and would land in their dream job.
Health
As Saturn transits to the 4th house for Vrischikha Rasi people, they would have some health issues. Especially women folk would have gynaecological issues and yet others are in for some digestive disorders through the period. Also those with chronic ailments would suffer a lot. Find ways to improve your immunity and stay alert and physically occupied at all times.
Sani Peyarchi Palangal for 12 Rasis
Effects of Saturn transit on the 12 Moon signs