Career
As Saturn transits to the 3rd house, Dhanus Rasi natives would see success in their career. You would get promotions and reach new heights in your career. Work and creativity would be lauded and rewarded, name and fame earned in society. You would get the good support of authorities and peers in work place. Though challenges come your way, you would be able to face them head-on. You would be able to better communicate these days with Saturn transiting the 3rd house.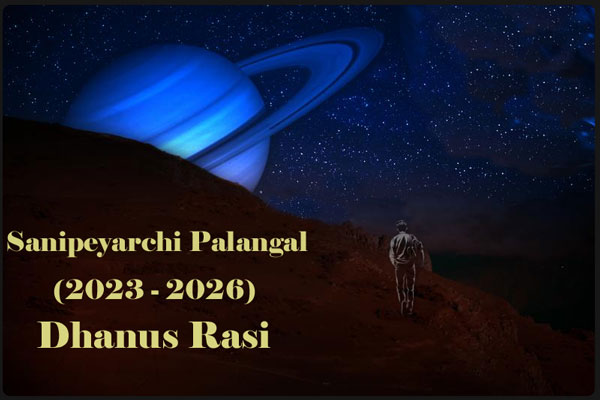 Love/Marriage
The love life and marriage of Dhanush Rasi people would be good with this transit. All previous issues and rifts with partner would be gone. Domestic welfare and happiness assured with good relations promised with parents and siblings too. You would get ample time to enjoy with family. Some of you might be going on fun and adventure trips during this time. The single natives would be getting married and the married ones would be blessed with conjugal felicity. Your commitment and understanding around this time would work wonders in love and marriage.
Finance
If you got Moon in Sagittarius then this transit of Saturn occurring in January 2023 would make your finances secure. All financial troubles of the past disappear and there would be good inflow of money for the household. You would clear off all your debts and loans and would be able to save enough funds as well. This is a good time to resort to long term investment plans and involved in buying of landed property. The Moon's nodes however might play spoilsport occasionally.
Education
Dhanush Rasi students would be successful in their studies with this Sani Peyarchi. Natives become much more smarter, intelligent and skilful. Those doing research works and technical studies would fare well. Overseas study opportunities abound if you are willing to take. You come through competitive exams and tests quite easily for the transit period.
Health
The health prospects of Dhanush Rasi folks would be good for the next few years when Saturn transits through their 3rd house. You would be having much energy and strength to tide over any health concerns. Chronic troubles lessen their impact. Natives are advised not to be stressed out in work though. There would be no major health issues provided you follow good diet practices and stay physically and mentally active through the period.
Sani Peyarchi Palangal for 12 Rasis
Effects of Saturn transit on the 12 Moon signs