This transit of Saturn would bless you with goodness. If you are looking for a good job, you will land in an ideal one. The aspiring single folks would get married, and if you are in for buying a dream house then the transit favors the same. Your finances would be very good with much money flow. This would be quite a beneficial transit for the Tula natives.
Career
As Saturn transits to the 5th house your career prospects also improve. Promotions and pay-hikes are most likely if you are liable for the same. Saturn might cause some delays and hindrances but the end results would be quite good. Natives stand to gain name and fame and there would be rapid growth in your professional stature. Overseas relocation and career opportunities also abound for the deserving or aspiring Tula folks.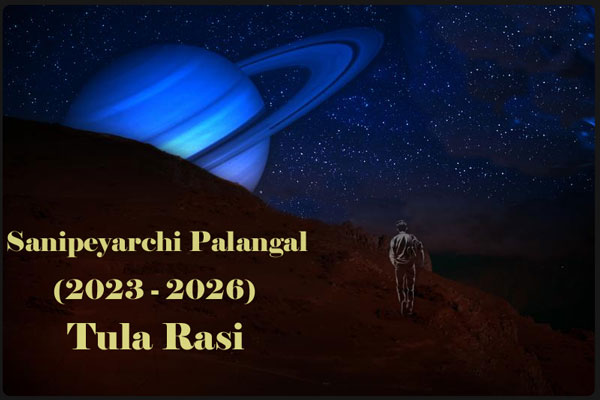 Love/Marriage
The love life and marriage of Tula Rasi people would not be that good with this Sani Peyarchi or Saturn transit. The reason simply being Rahu or the Moon's node transiting through your 7th house around this period. Hence you might feel detached from partner. All sorts of misunderstandings and troubles arise with spouse or lover. You need to be adjusting and compromising for your relationships to thrive this transit period. Unwanted expectations from your partner would trouble your relationship. If aspiring for marriage, it would get delayed. Problems with parents and siblings at home would evade domestic welfare and happiness.
Finance
Tula Rasi folks would see mixed fortunes with the transit of Saturn to their 5th house of Aquarius in January 2023. Inflow of funds would be average. Natives are advised to avoid speculative deals and gambling as it might result in loss of funds. Profits due for you would be delayed and investments wont fetch much returns for the period. But then the beneficial aspect of Jupiter on your 2nd house might avert major financial issues and would bring about a balanced financial standing for the natives.
Education
This Saturn transit would make sure that Tula Rasi students perform well in their studies. This would be a good time to pursue new studies and learn new skills. Your creativity would get enhanced and aspiring students get to go for higher studies. Overseas study prospects are also on the cards for some natives.
Health
Tula Rasi people would suffer certain health concerns during this Saturn transit. Natives likely to suffer from digestive issues and some likely to go under the knife. Beware all bad health habits as they might have serious repercussions on y our general well being. This would be a good time to kick of those habits. Stay physically and mentally active and resort to social works that give you inner peace.
Sani Peyarchi Palangal for 12 Rasis
Effects of Saturn transit on the 12 Moon signs