Marriages and auspicious events get through without much hassles. With discipline in life, you would reach new heights. Your hard work pays off now. There might be occasional challenges coming your way, but aided by the power that Saturn bestows, you would be able to embrace success during the transit.
Career
This Saturn transit would not be a good time for the career prospects of Simha Rasi people. There would be troubles galore around. Do not be deceived by colleagues in work places. Promotions and pay hikes shall elude you. Those in business ventures ought to be careful about partnership deals. Acting responsibly in the work place would prevent a headache in the ensuing year.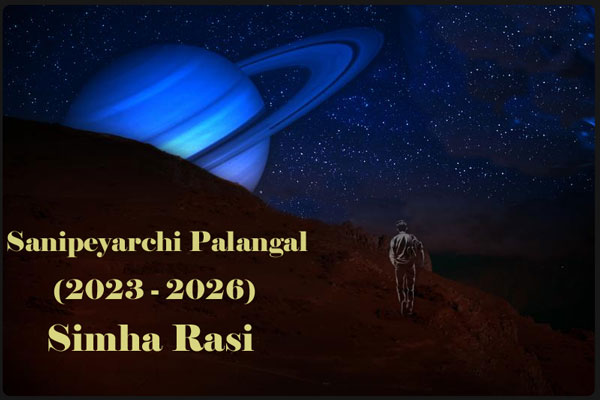 Love/Marriage
The love and marriage prospects of Simha Rasi people would be of mixed effects with this Saturn transit happening in January, 2023. Do not take any rash decisions this year with regard to your relationships. However domestic welfare and happiness assured for the transit period. With Jupiter or Guru aspecting your 2nd house of family welfare, things shall be a lot better these days. Harmony and peace would prevail in the home-front.
Finance
The transit of Saturn in 2023 would happen in the 7th house for Simha Rasi people. This points out that your finances would be able to meet out your needs. Some long term investment plans can be made and speculative deals would also fetch good returns. However there might be expenditure with respect to spouse and their health concerns. Do do bank on your resources for any contingency issues.
Education
Simha Rasi students would do well in their studies this transit season. They would perform in competitive exams and their creativity would be brought to the fore. Some of your folks might hog the limelight now as your intellect would come to the world outside. Those aspiring for higher studies would also be able to pursue the same as Saturn transits to the house of Aquarius.
Health
The Saturn transit in January 2023 might have some adverse effects on the general health of Simha people. Much work without any rest could take a toll on your general health. Some natives are in for a surgery during the transit period. Simha Rasi people are advised to kick all bad habits and lead a clean eating life. Do not let stress and strain burn you out. Those with chronic health issues in particular might suffer a lot due to this Saturn transit.
Sani Peyarchi Palangal for 12 Rasis
Effects of Saturn transit on the 12 Moon signs