However this is not a good time for any starts, as delays and hindrances would stare at your face. This is a period to lay low in general and go for some spiritual pursuits that would give you inner peace and strength to tide over the tough times in life.
Career
Saturn's transit to the 8th house in January 2023 would pose innumerable problems for the career prospects of Kataka Rasi personalities. There would be incompatibility in work place. Do not bite more than you can chew, and this is a time just to stick with routine tasks and not to go over board with any other expansion plans. Good organising and planning would keep you afloat during this transit season.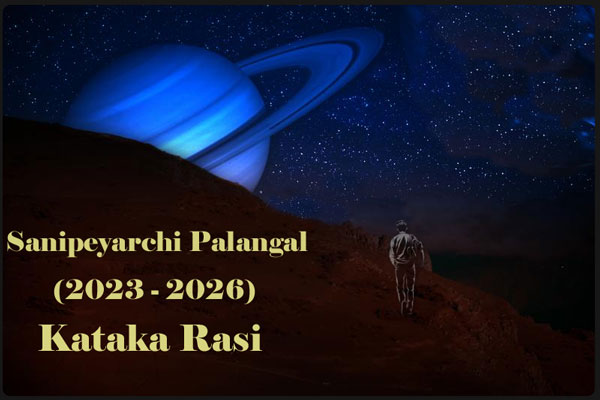 Love/Marriage
The love and marriage prospects of Kataka Rasi natives would not be that good as Saturn transits to their 8th house this year. Do not let anything that would mar your relationship for now and make good and wise decisions. Avoid all impulsive acts altogether for the period. If better understanding and commitment are done under your fold then your love and marriage would survive this Saturn transit time. Be prepared for some temporary separation from partner as well these times. Handle all disappointments and disapprovals with ease.
Finance
With the transit to the 8th house, this transit of Saturn would not be a favorable shift for the finances of Kataka Rasi folks. Be wary of your financial spendings, do not indulge with your resources and save some. This is not a time for making rash financial decisions like large investments and speculative deals. This Saturn transit would dwindle your finances quite notably.
Education
Kataka Rasi people would have good educational prospects with this Sani peyarchi. With much effort and hard work, natives would succeed in their exams and progress well. Your hard work would be rewarded amicably in the days to come thanks to the blessings of the great disciplinarian Saturn.
Health
Kataka Rasi people or Cancer Moon sign people are asked to take good care of their health as this Saturn transit would affect their general health and well being. Natives are advised to have a well balanced diet and good physical regime. Also be careful while travelling as accidents are probable for some natives during this transit period.
Sani Peyarchi Palangal for 12 Rasis
Effects of Saturn transit on the 12 Moon signs