During this Saturn transit, the Meena Rasi people are asked to formulate practical and viable plans and then move forward. There would be average results owing to this Sani Peyarchi for Kumbha Rasi people. With spiritual pursuits natives would get the courage and the power to overcome any challenges that might come their way as Saturn transits for the next few years.
Career
The career prospects of Meena Rasi people is in for some troubles as Saturn transits to their 12th house of Aquarius. Delays and hindrances arise, promotions and pay hikes would elude you. New responsibilities would be thrust on you which increases the stress and strain on the natives. Some incompatible atmosphere prevails in the work place. Though the unemployed would get jobs, it would not be a satisfactory one. Staying positive and working hard are the only means to survive this Saturn transit period.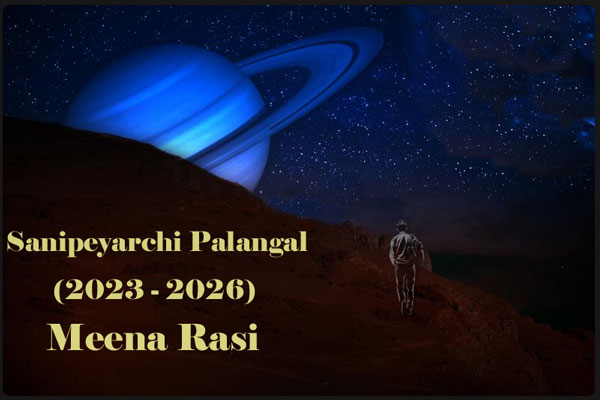 Love/Marriage
Domestic welfare and happiness would be at stake for Meena Rasi folks during this transit of Saturn that take place s in January 2023. There would be rifts with parents, siblings and elders in the family. Health and education of children would be a source of concern. Only a calm and composed nature on your part would take things forward. The Single Meena Rasi people would have troubles in finding their partner. There would be difference of opinion with partner or spouse these days. Only better understanding and compromise would keep things better. Avoid taking any rash decisions for the period and stay low.
Finance
With the transition of Saturn to the 12th house Meena Rasi people would face some troubles as the 12th house is the house of expenditure. Your expenses might off shoot your income flow these days. Delays and hindrances expected for inflow of funds. Do not resort to any speculative deals for the transit period as it might end in losses. Be cautious of all your financial moves for this Saturn transit period.
Education
Meena Rasi students would perform well in their studies if they put in hard work during this Saturn transit period to Aquarius. You might be compelled to lose your focus and concentration. However those into research and technical works would see some goodness. If you ought to be successful in competitive exams you need to put in extra effort. This is an excellent time to learn new skills that would leverage yourself in the society around.
Health
All sorts of medical expenditure is on the cads for Meena Rasi people as Saturn transits to their 12th house of Aquarius in January 2023. Natives need to take utmost care of their health this Saturn transit season. They are asked to take good balanced diet and to avoid stress and strain in life. Take proper medical intervention as and when the situation warrants to avoid unnecessary hospitalizations and sufferings this transit period.
Sani Peyarchi Palangal for 12 Rasis
Effects of Saturn transit on the 12 Moon signs