Career
The career prospects of Virgo Rasi people would be good as Saturn transits to their 6th house. This is also the house of work and hence the Virgos would perform well during the transit period. They stand to acquire new skills and would rise up in their professional life. You need to be responsible during the transit period and beware of false friends, accusations and frauds around you.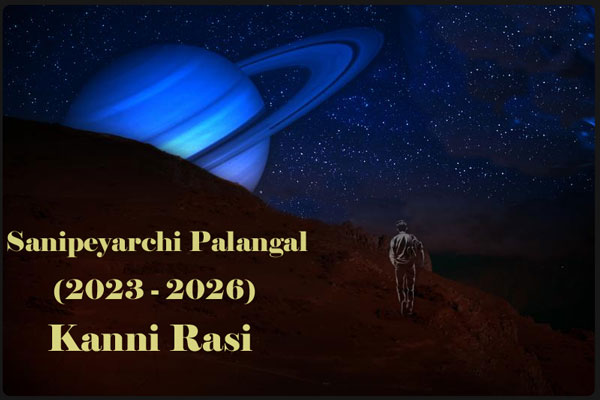 Love/Marriage
The transit of Saturn in January 2023 would be a good one for the love and marriage prospects of Virgo personalities. There would be cordial relationship with partners and you would be more than welcome in their lives. The singles get committed this transit period. But then getting the consent of elders in the family might take some time. If Virgo natives are wanting to get married then this would be an ideal time. There would be good bonding with partner all this season for the Virgos.
Finance
The transit of Saturn to the 6th house would adversely affect the finances of Kanni Rasi folks. As the 6th house is the house of debts and loans, you might end up borrowing money. Hence avoid unwanted expenditure of sorts and bank on your money resources for the transit period. Money owed to you would also elude you for sometime. Make good research works and enter into any lucrative financial deals this transit season.
Education
Kanni Rasi students would do well in their studies thanks to the transit of Saturn to their 6th house. If you keep working hard and pursue your ambitions whole heartedly then you will succeed. This would also be an ideal time to hone your special skills this transit period. Virgo students would earn name and fame in their educational pursuits for this Saturn transit.
Health
The general health and well being of Kanni Rasi people stands to get affected as Saturn transits to their 6th house of diseases. Some natives might get into hospitalization. Timely medical intervention and good health habits would protect you from major health issues as Saturn transits. Limb ailments, fatigue and tiredness would mar the well being of the natives. They are advised to resort to good food habits and physical workouts to stay fit all this period.
Sani Peyarchi Palangal for 12 Rasis
Effects of Saturn transit on the 12 Moon signs