The flow of funds would be quite good and natives would buy much landed property and luxury vehicles. Businesses and services do well for the natives. They are advised to share their fortune by way of social works and charity these days for goodness.
Career
This Saturn transit would affect the Mithuna Rasi people in a negative way. Your professional ambitions would meet with impediments. Your work load increases, but then there would not be a justifiable remuneration for the same. Compatibility issues arise with authorities and peers in work place. For some an unwanted relocation is on the cards this transit season.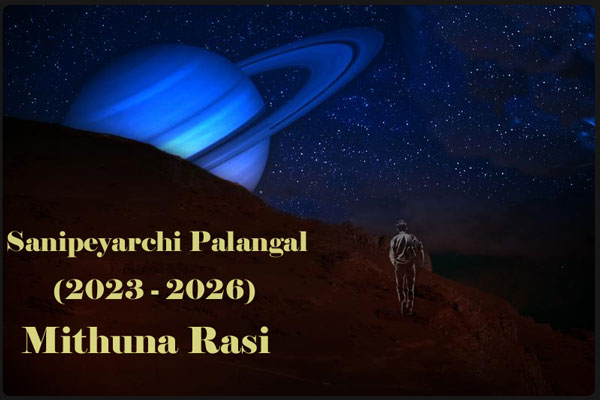 Love/Marriage
Domestic life would be quite average for this Saturn transit period. Natives stand to get maternal favour however trouble would brew with paternal links. Problems also arise with the relationship with siblings these days. Single Mithuna folks would be able to find an ideal partner. And those already committed or married would see betterment in their ties. Peace and harmony would prevail on the domestic front if you are flexible to balance your work and play. Find all ways to cement the relationship at home during this transit.
Finance
This would be a positive transit as for as the financial prospects of Mithuna Rasi people are concerned. Gains and profits come for your ventures these days and there is ample scope to expand your business or improve your skill sets. This is one of the best times to lay foundation for your financial aspirations. A good time to invest in real estate or buy your dream home.
Education
Mithuna Rasi people would do well as Saturn transits to their 9th house in 2023 January. They would be able to focus well on their studies and research works in particular favored for the season. Competitive exams would be successful and students have chances for pursuing higher education too.
Health
The transit of Saturn in 2023 would affect the health of Mithuna Rasi natives quite adversely. Natives likely to suffer from digestive and urinary issues, some resulting in surgeries as well. Those with chronic issues suffer much these days. Natives are asked to take good food and get medical intervention at the earliest to prevent major issues.
Sani Peyarchi Palangal for 12 Rasis
Effects of Saturn transit on the 12 Moon signs