You would have the strength and power these days and peace and harmony promised in your life during the transit period. Beware of accidents in travel as there is the chance of injury or loss of limbs for some natives.
Career
The effect of the Saturn transit in January 2023 would be quite beneficial for the career of Makara Rasi people. However, Ketu or the Moon's South node in the 10th house for the natives might bring about troubles in career this Saturn transit period. Frauds and false accusations stare at you. You would not be able to perform well. But then after the exit of Ketu from your 10th house things slowly would start to stabilize.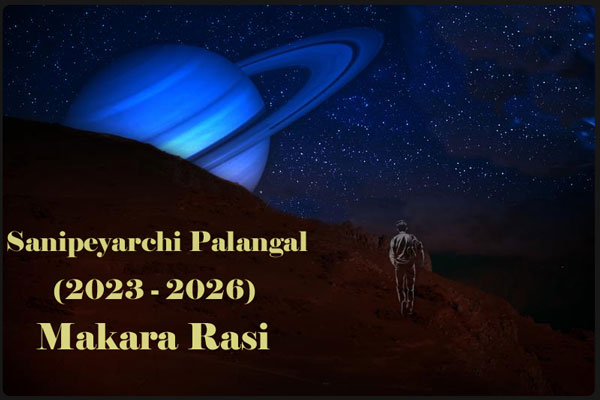 Love/Marriage
The prospects of love and marriage for Makara Rasi people would be quite average as Saturn transits to their 2nd house of Aquarius in January 2023. There would be unhappiness at home. Elders and children in the family feel neglected by you. Rivalry with siblings develop this transit period. Miscommunication at home might flare up things and bring about loss of domestic welfare and happiness. With some effort and commitment on your part, things shall brighten up during this transit period.
The Single Makara Rasi folks would find it difficult to locate their mate. Those already married however would find the time a bit peaceful and serene. Better understanding and emotional attachment with partner or spouse would work wonders in relationship during these rough transit times.
Finance
With Saturn transiting to the 2nd house of finances, Makara Rasi natives are in for good money inflow this transit season. But then they are asked to be wary of their expenditure. Rahu or the Moon's North node might ask you to indulge with your money, beware. If venturing into investments, be cautious of your deals as frauds abound around. Avoid all speculative deals for the transit period. Business expansion and service upgradation might ask for some finances from your part these days.
Education
This transit of Saturn to the 2nd house would distract Makara Rasi students from their studies. They are likely to lose focus and concentration resulting in failure or low marks in their exams. But then with Jupiter coming to your rescue, things shall be better in the field of education, if the natives are willing to work hard un-dithered.
Health
Makara Rasi natives would command good health and cheer during this Sani Peyarchi period. Their health improves and chronic patients would see some betterment. Natives are asked to stay active at all times and beware of any injuries to the limbs as accidents are probable for some folks around this transit period. Nervous issues are in for some people too. Take good food and follow spirituality according to your belief for peace and inner harmony .
Sani Peyarchi Palangal for 12 Rasis
Effects of Saturn transit on the 12 Moon signs