However between May 2016 and August 2016 things would worsen in your family life, career and health as the benefic effects of Sani would be over-ridden by the malefic Jupiter transit.
In general the Guru Peyarchi in 2015-2016 would be harmful for Mithuna Rasi natives. Health and career would take a heavy toll in your life.But then this transit would increase your confidence level. Your social circle would expand and you would get the goodwill of all. Short travels would be fruitful. However health needs to be taken care of more. Married life would be happy with you getting the good support of partner in life.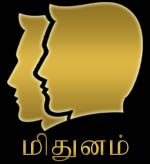 Pariharam or Remedies for Guru Peyarchi:

1. Avoid taking Non-Vegetarian food for this period

2. Visit temples on Thursdays.

3. Visit Guru (Jupiter) temple in Alangudi near Kumbakonam in Tamilnadu.

4. Do charity as much as you can.

5. Rely on prayers and meditation to ward off harmful effects of Guru.

6. Worship Goddess Durga.

7. Donate fruits and sweets to maidens.
Guru Peyarchi Palangal for 12 Rasis or Effects of Jupiter transit on the 12 Moon signs