For the period between July 2015 and November 2015, Saturn would be dominating Jupiter for you and hence there would be positive developments in your life. Much luck and fortune and gains shall come for you during this Jupiter transit. There would be rapid growth in life between September 2015 to December 2015 and then from May 2016 to August 2016. You would gain much confidence and better finances in this period.This would be an enthusiastic period for you with new avenues of growth in the professional field for the natives. There would be cordial relations with all around. Success comes in all sorts of competitions you engage with. Religious pursuits shall keep you busy during the transit days.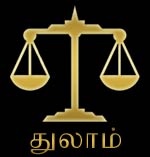 Pariharam or Remedies for Guru Peyarchi:

1. Avoid taking Non-Vegetarian food.

2. Visit temples on Saturdays and Tuesdays.

3. Visit Kuchanur temple in Theni District or Thirunallaru.

4. Help older people and students.

5. Do charity and social works to your hearts content.

6. Rely on prayers and meditation for overall goodness in life.

7. Water Peepal trees.
Guru Peyarchi Palangal for 12 Rasis or Effects of Jupiter transit on the 12 Moon signs