There would be unexpected problems in life in various aspects of your life like career, health, finances, etc. After Simha Rasi natives, Vrischikha Rasi natives would be the worst affected by this Guru Peyarchi. Be cautious in life and let prayers be your comfort in life. The combined malefic effects of Jupiter and Saturn on you would be just terrible. Particularly the first 5 months of this peyarchi would be very bad for you.
You would be able to perform well in your professional life. Those aspiring for a pay hike or business expansion shall see that happen in this period. There would be much travel owing to career. Natives would be blessed with domestic welfare/happiness in life.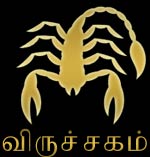 Pariharam or Remedies for Guru Peyarchi:

1. Avoid taking Non-Vegetarian food.

2. Visit temples on Thursdays and Saturdays.

3. Visit Guru (Jupiter) temple in Alangudi near Kumbakonam in Tamilnadu.

4. Visit Sani (Saturn) Temple in Kuchanur in Theni District or Thirunallaru.

5. Help older people and students with their works.

6. Do charity as much as you can.

7. Concentrate on prayers and meditation for relief in life.

8. Donate almonds at religious places.
Guru Peyarchi Palangal for 12 Rasis or Effects of Jupiter transit on the 12 Moon signs