Your health, finances and career would improve a lot, though family troubles might crop in now and then as Saturn or Sani would be in your first house for this period. Saturn would be minimizing the benefic effects of this Guru Peyarchi by a considerable amount.In general this transit would be a mixed bag for you. Though the initial period looks good, between January 2016 and April 2016 things would worsen a lot only to look up between May 2016 and August 2016.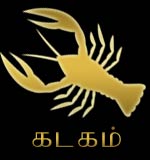 There would be much accumulation of wealth in this time. Auspicious events might take place at home. Birth of a new born would bring joy in the household during this transit period. There would be gain of name and fame thus earning the wrath of your opponents and enemies. Love life would bloom like never before during this time.
Pariharam or Remedies for Guru Peyarchi:

1. Avoid taking Non-Vegetarian food for this period

2. Visit temples on Saturdays and Tuesdays regularly.

3. Visit Kuchanur temple in Theni District or Thirunallaru temple once.

4. Help older people and students with their works.

5. Do charity as much as you can.

6. Prayers and meditation would work wonders in your life.

7. Donate yellow clothes to priests.
Guru Peyarchi Palangal for 12 Rasis or Effects of Jupiter transit on the 12 Moon signs