This assures goodness in your marital life Peace and harmony will prevail at home. Health would be satisfactory and betterment seen in your work-front. Promotions and pay-hikes are on the cards this season.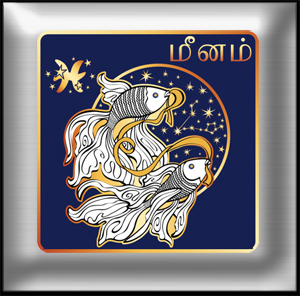 Then in September 2017, Guru or Jupiter moves or transits to your 8th house. This would bring untold sufferings for Meena Rasi natives as the 8th house is an evil house. Health issues crop now and then and trouble you. There would be much stress and strain around and you would be losing your energy and vigor in general. Only spirituality and meditation would give you peace of mind during these hard times as Guru transits your 8th house.
Between - Sep 11, 2017 to Oct 25, 2017 -Some Setback.
Oct 25, 2017 to Mar 09, 2018 -Testing Period.
Mar 09, 2018 to Jul 10, 2018 -Significant Recovery.
Jul 10, 2018 to Oct 11, 2018 -Bad Time.
Remedies for Guru Peyarchi
1. Avoid taking Non-Veg food on Saturdays and Thursdays.
2. Visit Kuchanur temple or Thirunallaru or any other Sani temple.
3. Visit Alangudi temple or any other Guru temple.
4. Recite Sudharsana Maha Mantra to get protection from enemies.
5. Help older people and students.
6. Visit temples on Thursdays and Saturdays.
7. Do Meditation and Prayers as much as possible.
Guru Peyarchi Palangal for 12 Rasis or Effects of Jupiter transit on the 12 Moon signs