This would bring about promotions, pay-hikes and good relocations in the professional front for Dhanus Rasi natives. You would get into the good books of authorities and higher-ups in the career field.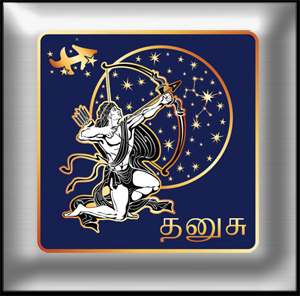 Then in September, 2017 Guru or Jupiter moves over to your 11th house. This would bring about much gains in life for Dhanus natives. There would be good income flow. Purchase of house property and luxury vehicles on the cards for some natives. Married life would be good. However make sure that you earn the goodwill of elders in the family. New friends and acquaintances come into your life this time period.
Between- Sep 11, 2017 to Oct 25, 2017 -Good Results.
Oct 25, 2017 to Mar 09, 2018 -Mixed Fortunes.
Mar 09, 2018 to Jul 10, 2018 -Sudden Troubles.
Jul 10, 2018 to Oct 11, 2018- Good turnaround.
Remedies for Guru Peyarchi
1. Visit temples and avoid taking Non-Veg food on Saturdays
2. Visit Kuchanur in Theni District or Thirunallaru or any other Sani or Saturn temple.
3. Listen to Hanuman Chalisa for good health.
4. Pray to lord Balaji to gain more financial success.
5. Help the older and handicapped people around.
Guru Peyarchi Palangal for 12 Rasis or Effects of Jupiter transit on the 12 Moon signs