But then there would be a shift of fortune for some natives, hence be cautious. Not a time for making important life decisions, play things safely till the transit period is over.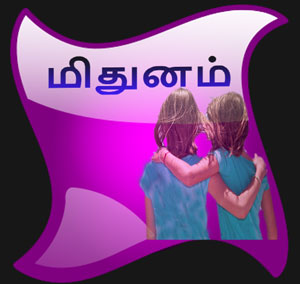 Family
Jupiter transiting through your 9th house forebodes goodness in the family front for Mithuna Rasi natives. The environment at home would be very conducive for your general well being. But then occasional rifts at home cannot be ruled out. Temporary separation likely for some natives for whom Jupiter is not strong enough in the natal chart. Children bring joy to household and elders in the family would bring about unwanted medical expenditure occasionally.
Love
Till now Jupiter in your 8th house would have brought about untold sufferings in your love life or marriage. Now this transit would bring about some betterment. If you have been on a rift with partner, then this period would bring some rapprochement in your relationship. Happiness would prevail in your love life and marriage. For some natives love would be ending in marriage these days. Single Mithuna Rasi folks would be able to locate their ideal partner for life. Through the transit period, there would be occasional relationship issues. Be strong and look out for positivity in your relationship.
Education
This Jupiter transit would be a very favorable period for Mithuna folks. You will do well in your studies and would be able to achieve your life ambitions. Some of you would get admission into prestigious institutions and higher education likely for the deserving ones. However as the transit period moves on, there would be some setbacks for your educational ventures. Much concentration and hard work would be asked on yourpart for success in exams. There might be some incompatible relationship with your teachers, sort it out.
Health
Saturn placed in your 8th house and Rahu in the evil 12th house would bring about many stressful periods ahead affecting your general health and well being. But then Jupiter transiting through your 9th house would help you to tide any difficulties. Health issues form family members might trouble some natives. Issues related to the digestive system might haunt you and if you are advised surgery, then this transit period would be quite ideal for the same. Tame your body and mind for overall health and welfare.
Guru Peyarchi Palangal for 12 Rasis or Effects of Jupiter transit on the 12 Moon signs