Avoid all types of speculative deals for the transit period as losses loom around. However as the transit proceeds, some betterment can be seen. Resort to some spiritual pursuits to give you peace in life.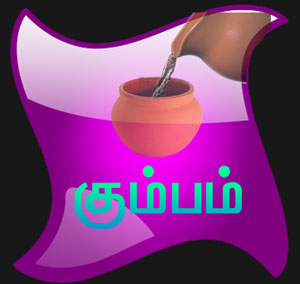 Family
The family life of Kumbha Rasi natives would be heavily affected when Jupiter transits to your 1st house. Relationships would be affected greatly. There would be serious rifts with spouse/partner these days. Children if any would bring you bad repute. Not a time for making important family based decisions. Natives might undergo temporary separation from family or spouse. But then you would have the emergy and will power to sail through these tough times. Around the end of the transit period, auspicious events at home can be planned.
Love
For Kumbha Rasi natives, from April 5, 2021, Jupiter would be moving to the 1st house and Saturn would be in the evil house of 12th. This is one of the worst times for the natives as far as love prospects are concerned. Do not start any new relationships during the transit period. Some natives would be cheated or let down by their partner of interest. Your emotions and feelings would be taken for a ride. But then some of you would be able to settle for an arranged marriage. As the transit period ends, the singles would be able to locate their ideal partner.
Education
Kumbha Rasi students would be adversely affected by this Jupiter transit. Your studies would be distracted by unwanted thoughts and bad addictive habits. You might get into the company of bad influences. There would be incompatibility with friends and teachers. This would be a testing phase. Only hard work and commitment would see you through these tough time. Not a time for confrontation and head –on collision with your peers in studies. Lay low, keep working hard till the transit period ends.
Health
For Kumbha Rasi folks, Jupiter transiting to the 1st house would bring about physical and mental ailments. Health of family members would also be affected quite adversely these days. And Saturn placed in the evil house of 12th would add to your woes. Medical expenditure would burn your fingers. Around the end of the transit period, some goodness seems to be in sight. Proper medical intervention and preventive measures would keep you safe. Beware of chronic issues for the period though.
Guru Peyarchi Palangal for 12 Rasis or Effects of Jupiter transit on the 12 Moon signs