Pilgrimage or spiritual pursuits shall give you peace of mind for the year ahead.
LOVE
For the best results when dating, or dealing with your ex skip the first quarter of the year. This year marks a new era in love, when you will either take an existing relationship to the next level, or find yourself flirting with a partner who could change your life. Tie up loose ends from last year, or do the groundwork for the next relationship.
If your money, assets, investments or bank account is tied up with your partner, then keep life simple by avoiding major decisions, changes or deals. The period of 2008 would be much easier, when an opportunity to do more with your lifestyle or job will give you leverage in discussions. To successfully spring-clean your relationship, take stock of your feelings and then move forward. Your partnership will trigger travel, study, a move or big ideas.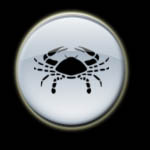 CAREER
Your job could be subject to change, unless you are in a position which genuinely puts you in control. If you are in a no-win situation, then fate may intervene, as it's important that you end up with a new direction, rather than compromising in the same old game. If you are lucky enough to be in a professional situation that allows you to fulfill your true potential, then a series of events throughout the year could see you with more influence and power than you imagined. New projects, roles or opportunities then come and go easily.
FINANCE
You may be struggling with a mortgage or credit card debt, or even dealing with the psychological and practical burdens of wealth for the year. In all cases, though, a dramatic change in your situation is expected after a month which will lift the burden. Until then, navigate your way successfully through the year by avoiding unwanted financial deals. If you purchase a new car next spring or summer, make sure you are aware of repair costs, parts replacements, insurance and all other issues.
HEALTH
This is the most important year of the decade for managing your mind, body and spirit. If a crucial health issue is already on your agenda, keep life simple by working patiently with financial realities. This will add a great deal to the work you are also doing on your body. You cannot work, rest or play the same old way. Keep a tab on your diet and watch out for your waistline.