From the 4rd house Jupiter would be aspecting the 7th, 9th and 11th houses. These are favorable aspects and bring goodness for Kataka Rasi natives.
Jupiter aspecting the 7th house would bring goodness and happiness in the marital life of the natives. There would be an improvement in relationships with spouse. Gains can be expected from spouse in life. Partnership deals in business would also see good tidings. However those aspiring to get married might meet with delays and hindrances during this transit of Jupiter.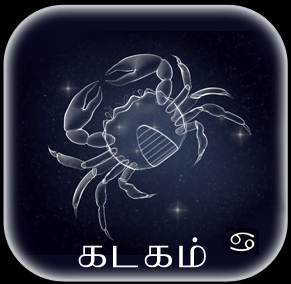 Jupiter aspecting the 9th house assures good relations with father and elders in the household. You would be rewarded for your past birth deeds now. Relationship with siblings would also be cordial and good for this years time. Gains from parents like inheritance on the cards.
Transiting Jupiter aspecting the 11th house for Kataka Rasi natives would spruce up your social life. New friends might come into your life. All your desires and wishes in life get fulfilled. Overseas trips and study opportunities are likely for some of the natives. A generally gainful period is predicted.
Though this is a good transit or peyarchi, Kataka Rasi natives are advised to be cautious with finances and risks in life. Maintaining your repute in society would be a great task before you now for this period. Your self-esteem or confidence would be at its lowest, however spiritual inclinations would bring in peace.
Overall, this Guru Peyarchi will be positive and favorable time for Kataka Rasi natives.
Guru Peyarchi Palangal for 12 Rasis or Effects of Jupiter transit on the 12 Moon signs