Sagittarius Love Compatibility Horoscope 2019
---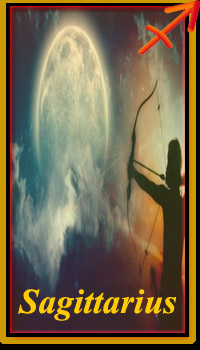 In the year 2019, love and marriage seem like a child's play for Sagittarius folks. But however as the year progresses, your attitude changes and so is the circumstances around you. Expect some dissatisfactions and disappointments in your love life and marriage. Incompatibility with partner might seem like the order of the day for some of you.
As Jupiter enters your 7th house in July, 2019 things seem to be a little rosier than before. You would be able to meet your significant partner in life. Your social area would be full of joy reflecting onto your personal side as well. When Saturn enters your 7th house in August, you would be put to tests of compatibility. If your love is committed and true then you would come out with flying colors. Some of you might be able to forge long-term relationship with a peer or business associate during the year.
Best and Worst compatibility signs for 2019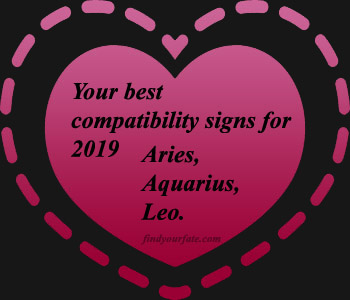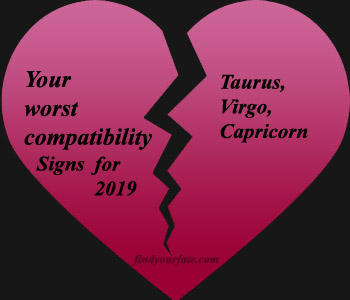 Best and Worst love match signs for 2019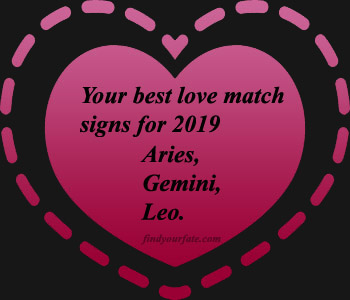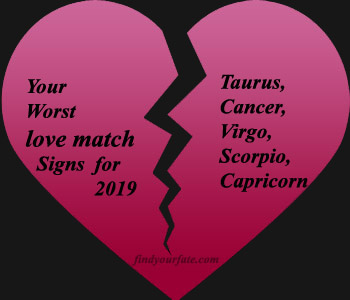 Sagittarians looking for a second marriage might meet with delays and hindrances thanks to the eclipses that are due for the year. The eclipses likely to haunt those already in a relationship or marriage too.
Sagittarius have a great year ahead in terms of their love relationships and marriage. The stars are perfectly aligned for this. For most of you guys, it would be love at first sight. Make sure that you give him or her the desired attention and time. Though career might take its toll on your love life, make sure that you are there for them when they need you the most.
If you think that you have located the ideal partner, then there is no going back. Put in all your might to win him or her. Some stress and emotional outbursts are likely around the last quarter of the year. Beware, as it might affect your physical and mental self as a whole. In case you encounter any separations, do not lose heart. Cupid is waiting just across the corner.
Sages better look out for potential partners in Aries, Gemini, Virgo and Libra folks for the period. Also you are advised to stay away from Cancer, Leo and Pisces natives as they are quite incompatible with you for the year.