Aquarius Love Compatibility Horoscope 2019
---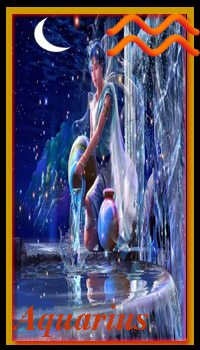 Though the 7th house is uneventful for the year 2019, two eclipses that are due through the year in your home would bring about turmoils in your love life or marriage. Most Aquarians fail in love due to their great need for freedom, so would be the case for this year too. Also your changing interests and affection might collude with your compatibility with partner.
Many of your Aquarians would be attracting multiple partners through the year, but you seldom stay with them for quite a period. Since you are not committed incompatibility issues strike in now and then.
When Saturn leaves your 5th house of love in October last of 2019, things sort of seem to be settling down in love and marriage for Aquarius people. Jupiter loitering in your 5th house from July helps you to strike cordial love affairs with those in work and social circles. July and August seem to be favorable periods to tie the knot if you are planning to. But then the road to the altar would be quite rocky for some of you.
Best and Worst compatibility signs for 2019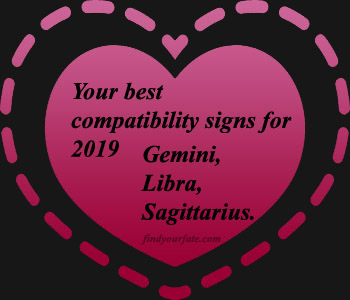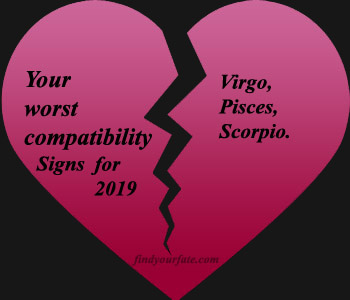 Best and Worst love match signs for 2019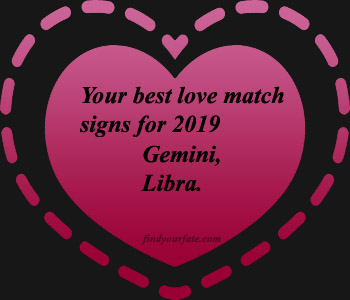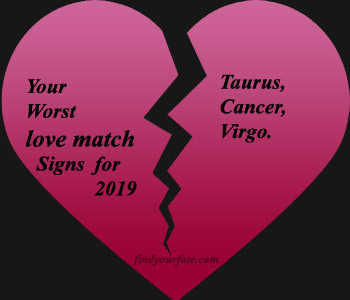 For the year 2019, Aquarius natives likely to encounter some hiccups in their love relationship. An old relationship or secret might surface marring current trends in your life. A good talk would help you to win over your love this season.
A Libra person would be more compatible with you this year as he or she is highly sociable an important criteria for you in a relationship. Gemini would also win your heart with his or her inquisitiveness. Leo would be quite compatible with you if they are less dominating. Taurus would not be compatible with you this season as they too materialistic and resource-oriented, something you hate altogether. Also Scorpio might drive your sexual instincts but might try to dominate you. You cannot tolerate the emotions of a Pisces and the perfectionist Virgo. Another Aquarius might go well with you but periodic detachments would prove beneficial for the long run ahead.
Your confidence would help you to forge strong and compatible relationships for the year. Much romance and emotions are on the cards, particularly around the middle of the year. Take a break from family and work and take your partner on a trip or short picnic occasionally. This would help you to understand him or her in a better light.
For the year, Aries and Cancer people are likely to make compatible partners for Aquarius natives. There would be better understanding here. Stay away from other Aquarius folks for now, in terms of love or marriage as huge challenges are likely here. Give top priority to love, marriage and partner for the period. Because of your way-ward attitude you might result in loss of potential compatible partners for the period.