Cancer Love Compatibility Horoscope 2019
---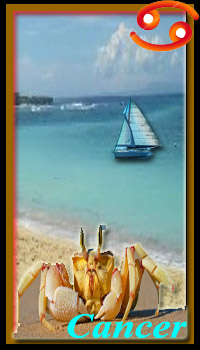 Though your 7th house is not powerful enough for the year 2019, Cancers experience much activity in love and marriage through the year, thanks to the eclipses happening this period. Some of you would be forced to get out of the fence if you are sitting on an abusive incompatible or dissatisfied relationship. The married ones expect some turbulences in your relationships.
Saturn in Taurus moves over to the house of Gemini in 2019. This w ants you to ask for better communication and exchange of ideas form your partner. Add to this the eclipses bringing about major crisis in your love life and marriage. There would be occasional bouts of incompatibility waiting to mar your relationship. Some Cancer guys would be able to locate partners through social media and the like.
Best and Worst compatibility signs for 2019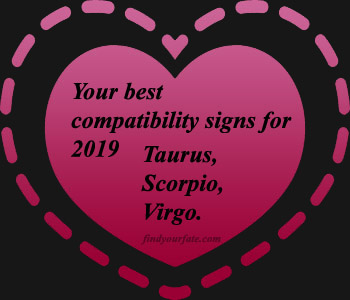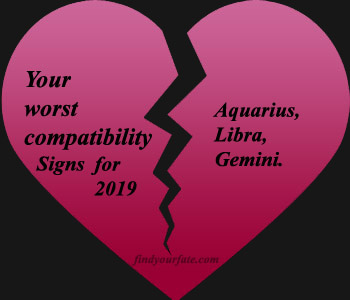 Best and Worst love match signs for 2019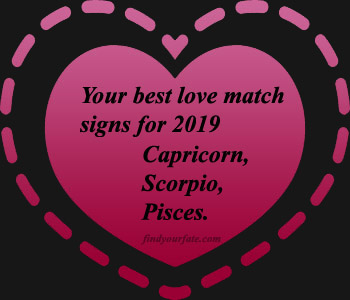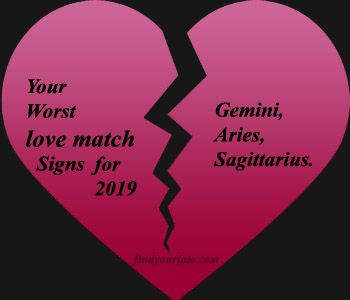 The conjunction of Jupiter and Saturn would be an opportunity to enhance your present relationships. As the year unwinds you would be more sensuous and emotionally bound to your partner. The single ones would be going through some abusive relationships. Expect major changes in the love front as the year unwinds.
Year 2019 would be a year of great happenings and excitement for Cancer folks in the love front. Your sense of self-esteem in this area just looks great. And you would be able to woo just about any partner of your liking, some of you guys might be able to attract even total strangers. Unconventional relationships are likely too for you folks.
However things are not that rosy always. Around the middle of the year some incompatibility issues might crop in marring goodness. Make sure that you bark under the right tree. Some old secrets or hidden truths might come out to the fore bringing in negativity in your relationships for the period. Stick to your ground and do not be a scape-goat for situations around.
Though rifts and misunderstandings are on the cards through the year, better compatibility would prevail with some effort and commitment on your part. The last quarter of the year brings around moments of joy and gladness for Cancer folks. Also through this period Leo, Virgo and Scorpio natives would be more compatible with you than the other zodiacs.