Pisces Love Compatibility Horoscope 2019
---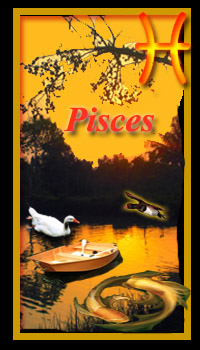 Love and marriage are not your cup of tea for the year 2019, Pisces. However your social life is in for an upswing, roping in potential partners for love and marriage. Career and family issues might take the centre-stage through the year.
The second half of the year might bring in some hot romance and love in your hitherto parched life. But then confusion and bouts of incompatibility haunt you. Most of your relationships would sublime with time. Jupiter's conjunction with Saturn around the middle of the year improves friendships in your life and not your love life.
Best and Worst compatibility signs for 2019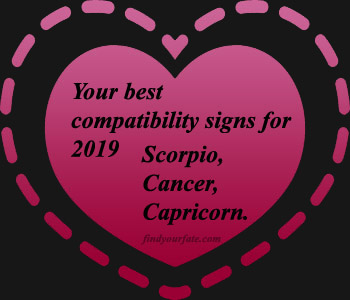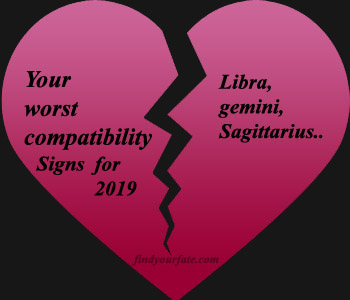 Best and Worst love match signs for 2019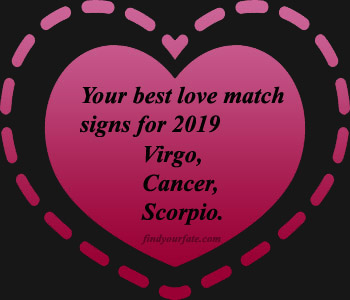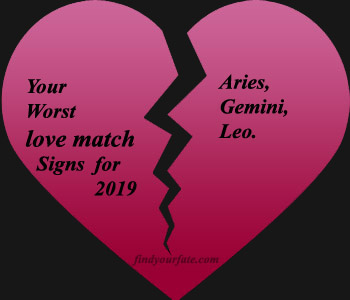 Mercury being your love planet, hinders and halts your love proceeds when it goes retrograde for about three time in year 2019. Then relationships seem to go backward and there would be moments of incompatibility in love or marriage. Severe ups and downs are likely for the year ahead, but do not take them to heart. A good talk and better communication would help you to mend fences in estranged relationships.
Pisces folks are in for a major make-over in their love life through year 2019. Your idea and opinion about love and marriage is in for a main shift of thoughts and ideals, henceforth you stuck to. The middle of the year proves to be quite conducive to for some of you to proclaim your love. Those already in a relationship or single would be able to get into wedlock during the same period.
The second half of the year might result in loss of a love affair for some of you folks. Expect a rough patch then. Do not let your emotions and feelings overwhelm you. Instead stay focused and look out for compatible partners around who would lend a caring shoulder for you in the long run.
Your career or professional commitments might also hinder your relationships this year. Maintain a calm demeanor to win your partner through rough roads. The last quarter of the year would bring some moments of incompatibility in your love life or marriage. Be committed and let not your emotions and negativity weight you down. Love is in the air, and do not let minor hitches mar your love pursuits during the period.
This year, Taurus, Virgo and Scorpios make good compatible companions for you in marriage or love. Keep off from Aries, Sages and Geminis as they might take advantage of your soft nature. While the other zodiacs mgith strike a good chord with you, do not indulge into logn term affairs with any other Pisces. Together, both of you cannot cross the ocean of emotions ahead of you this year.