Pisces Love Compatibility Horoscope 2018
---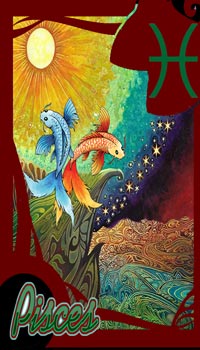 For the year 2018, Pisces natives can expect more socializing as the 11th house of friendship is greatly emphasized for the period. There would be a dearth of romance and compatibility in your love relationships for now. You would feel a greater urge to forge new friendships rather than taking risks with totally incompatibility partners in life.
During the year, the Pisces natives who are single are likely to stay so for the whole period, while the married ones would find the time conducive for compatible relationships in their lives. You would be at your emotional best this year, and hence would be able to rope in potential compatible partners for life.
Best and Worst compatibility signs for 2018
Your most compatible signs for 2018:
Scorpio, Cancer

Capricorn.
Your least compatible signs for 2018:
Gemini

Sagittarius .
Best and Worst love match signs for 2018
Best Pisces Love Match for 2018:
Cancer

Scorpio.
Worst Pisces Love Match for 2018:
Libra, Gemini

Sagittarius.
If a second marriage or partner is in your thoughts then now would be the time for it. There would be many moments of ups and downs in your love life this year. Periods of incompatible and unstable relationships are also forecast for the days ahead. Saturn would be in the first house or Ascendant house this year for Pisces natives. Hence you might be a little aloof or dominating or controlling in a relationship that might mar compatibility in the relationship with your partners.
It is a good thing if you would give the freedom for your partner during the year. Be prepared to handle sudden violent changes in your friendship and relationship areas. New partners come into your life and existing ones might exit from the same. Pisces natives would be settling down with partners who are much older than them this year. You would need to maintain a balance between personal and professional life if you yearn for compatibility in your relationships.
Pisces guys are said to be highly romantic and make compatible partners for life. You get down for flattery and hence might become a scapegoat in a relationship. Hence if you opt for a compatible relationship stop sacrificing for others and start living. Better settle for a partner who is appreciative and practical to take you together in a compatible journey. Through the year, a Cancer person would be compatible and caring towards you. The intense Scorpio would flame your sensual and sexual passions bringing about compatible relationships. Virgo helps you to lead a practical and perfect life.
You would find the adventurous Sagittarius too vulnerable for you and the Gemini as a scatter-brain would not go well with you in the long run. Another Pisces would make a compatible pair with you, but make sure that either one of you is practical and not dreamy. Aries is too aggressive and abusive for you to handle.A Libra person would be just kind to you in a relationship. Aquarius is too much an intellectual to get on with you. Leo helps you to live the real life. Also a Taurus would help you to be practical and down-to-earth. Capricorn would teach you the nuances of hard-work and commitment.
Jupiter would be in your hometown of Pisces from late February 2018 and this would bring about a streak of luck in your love life and roping in compatible partners for life. Most Pisces guys are likely settle down with a Sagittarius or Scorpio person this year.March, May and July would be ideal times for romance and partying in your love life. Between mid-October and mid-November of 2018, prospective Pisceans get married and settle down in life. Most of you would be tying the knot with a total stranger though.
Related Links
---
• Pisces Love Compatibility Horoscope 2019