Capricorn Love Compatibility Horoscope 2018
---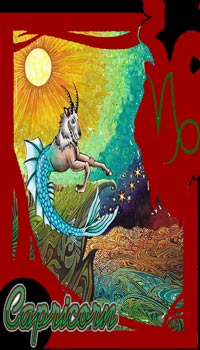 Marriage, love and compatibility would not be on the priority list of Capricorns in year 2018. With Uranus and Neptune in your Ascendant or first house Capricorns would be able to change their romantic stand for the period. Change is in the year.
The single ones get married, the married ones might get divorced or stray for some other compatible partner in life. A good time to experiment with potential partners. Partners might find you unstable and financially unviable at times. Hence be cautious. Avoid over-indulgence of sorts to stay in a compatible relationship. Health and profession would be a major source hindering compatibility in your love life or marriage this year.
Best and Worst compatibility signs for 2018
Your most compatible signs for 2018:
Taurus, Pisces

Virgo.
Your least compatible signs for 2018:
Aries

Libra
Best and Worst love match signs for 2018
Best Capricorn Love Match for 2018:
Virgo

Taurus .
Worst Capricorn Love Match for 2018:
Sagittarius

Leo.
The Moon would be holding the sway over your love life and marriage this year. There would be moments of crests and troughs in alignment with the Moon's waxing and waning in your love life through the course of the year.
Generally Capricorn natives vie for material benefits from their partners. You are no exception here. Hence you would be landing in a relationship that would improve your financial standing or status in society. However make sure that partner is compatible with you for the long run. Also credibility and loyalty are things to watch out here.
Taurus native would make a compatible partner for you as he or she would have the resources and the sensuality needed for a relationship. Virgo is also quite compatible with their commitment and sincerity. Cancer would be a good bet with their warmth which just melts your heart away.However a Libra would be too indecisive for you and Aries would be bossy and aggressive which you cannot stand up to in a relationship. Aquarius would be suitable for a compatible relationship but would be a kind of aloof for you as you need total commitment. Leo's dramatics would drive you too crazy and getting along with another Capricorn is just what you need to do right now this year.
A Sagittarius partner would be distracting for you and a Gemini is a scatter-brain. On the other hand a Scorpio person would fulfill your sexual and sensual needs and you like a sensitive Pisces as well for forging compatible relationship.
The months of January, April and May are ideal for romance and compatible relationships in life. Mars would be travelling through your native house of Capricorn between March last and October in 2018. This would be a time when you would be sexually attractive to compatible partners. Make good use of the period folks. November-December would be a time when things flop on the relationship side for Capricorn guys.
Related Links
---
• Capricorn Love Compatibility Horoscope 2019