Pisces Love Compatibility Horoscope 2017
---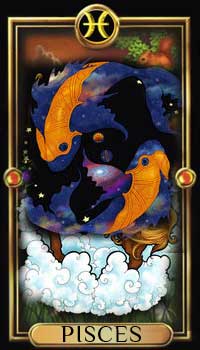 Jupiter would be in your solar 6th house of Leo for the first half of 2017. This might bring in temporary separation and moments of incompatibility with your partner. Then in August 2017, Jupiter shifts to your solar 7th house of love, romance and marriage when good tidings await you in the relationship front. You would be getting the love and attention of your partner and a totally compatible atmosphere would prevail in your love area.
Saturn in the house of Gemini till March 2017 would bring in much struggles in the love life of Pisces guys. There would be many regrets and incompatible issues fuming in your love front. When Saturn moves over to the house of Cancer later on , your solar 5th house of love, goodness is promised. However not much fun would be involved and life becomes too serious, but then there would exist compatible relationships in your personal and professional life.
As SA\aturn transits in April 2017, there would be good improvements in the love, marriage and social life of Pisces people. You would get the warmth, love, and attention of your partner that complete compatibility reigns supreme in your life.
For the past few years, some of you Pisces people would have grown too cold and aloof owing to incompatible relationships in your life. But now your partner or spouse would come to your rescue and uplift your spirits. As the year progresses on, you would make new friends as socializing becomes your norm for the days.
Best and Worst compatibility signs for 2017
Your most compatible signs for 2017:
: Scorpio, Cancer,

Virgo, Taurus, Capricorn.
Your least compatible signs for 2017:
Leo


Libra
Best and Worst love match signs for 2017
Best Pisces Love Match for 2017:
Aries

Cancer and Gemini.
Worst Pisces Love Match for 2017:
Libra

Scorpio and Leo.
The barriers or personal walls that you have created as far as relationships are concerned are now broken loose and new compatible partners come into your fold. If you are to survive the tides of incompatibility that at times sweep in your life then the credit should go to your partner or spouse for putting up with you through thick and thin.
If you are single, then this year you would be attracting the opposite sex much by your charms , wits and talks. However marriage or a committed relationship shall elude most of the Pisces guys for 2017. This is because the 7th house for Pisces natives remains quite inactive for the year.
New connections and links would come in your personal life bringing in potential compatible partners. New contacts would change into friends and then into partners for life for some Pisces people this year. Perfect compatibility would be found between your authorities and colleagues in the workplace as well.
Pisces guys are into social groups and other task-oriented groups this year that friendship looks less nerve-racking than a committed romantic relationship. Those looking for a second marriage are likely to get married this year. For those marrying, partner is likely to have professional connections.
The wedding bells are probable for the willing ones and it would be a long lasting one for most Pisces guys. If you are looking for a separation or a divorce, better wait for the tide to ebb out. Some you are looking directly into the eye of a crisis with incompatible partners tugging along in life. Drastic changes are in for Pisces people around the end of the year, however be advised that survival is the key to happiness.
Pisces singles compatibility:
Generally Pisces guys are tight-lipped when it comes to expressing their love to their partner. But now in 2017 you would have the guts to express your true feeling for your partner thus paving way for a compatible relationship on the whole.
Pisces in a relationship compatibility:
Those Pisces guys in a relationship or marriage, do note that you give much importance to your partner that you put them up first in your life. But if you have ever thought that you are side-lined, then you are chugging towards an incompatible relationship. Make sure that your partner has the same sort of commitment you have for him or her.
Pisces compatibility:
Aries, Cancer and Gemini guys are found to be the loving partners for Pisces guys this year as they are totally caring and very understanding. They make a long –lasting relationship which would be full of love, romance and compatibility. But then Pisces people are asked to stay away from Leo, Libra and Scorpio natives as there would be lack of warmth, romance and compatibility in these unions for the year ahead.
Pisces Love compatibility:
Pisces natives might encounter some hardships through the course of this year, that the compatibility with their partner would be put to test. The middle of the year holds huge promises as far as love compatibility in your life is concerned. Cupid plays an active role in your life then that goodness and happiness is assured.
Pisces Romance compatibility:
Romance might elude some Pisces guys for the year ahead and hence romantic compatibility becomes a matter of question. The single ones find the going tough in their romantic side. However those already in a marriage or relationship would see a good bloom in their romantic compatibility. The end of the year 2017 brings about good tidings for the Pisces singles on the romantic side.
Related Links
---