Sagittarius Love Compatibility Horoscope 2017
---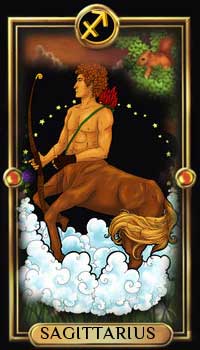 In 2017, Jupiter would be placed in the solar 9th house for Sagittarius natives and this would bring about harmonious and compatible relationships in your life. Later when Jupiter transits to the house of Virgo, Sagittarius natives would see their relationship enter a new phase of dynamism and compatibility.
Saturn in the house of Gemini from the start of 2017 till June would bring about major challenges, hindrances and obstacles clubbed with intermittent periods of incompatibility with your partner in life. In June 2017, Saturn shifts to the house of Cancer, your 8th solar house. Still problems would persist in your relationship area where feelings and emotions would be the focus.
Year 2017 would be an eventless period for most Sagittarians as your 7th house is not well-placed. Status quo would be maintained in your relationship front. Natives are advised to stick to their partners in a compatible affair rather than looking for greener pastures. This is a period when Sagittarians would be able to bring to the fore their love, affection and warmth and thus earn compatible relationships.
Best and Worst compatibility signs for 2017
Your most compatible signs for 2017:
Leo, Aries,

Aquarius, Gemini, Libra.
Your least compatible signs for 2017:
Taurus


Cancer
Best and Worst love match signs for 2017
Best Sagittarius Love Match for 2017:
Pisces

Gemini and Cancer.
Worst Sagittarius Love Match for 2017:
Virgo

Aquarius and Taurus.
A significant compatible romantic relationship is just brewing for the aspiring Sagittarius natives in 2017. However there would not be too much push or pull to pursue the same. This is likely to happen around April-August 2017 when Venus would aid your love pursuits.
From April 2017, relationships tend to get a new meaning in the life of Sagittarians. Intimate compatible relationships are predicted for some natives. Partners would come from influence due to travel, correspondence, family and friends. For the stubborn guys out there your marriage would not be much compatible for the year-end and might hit rock bottom as the year comes to a close. With lots of adjustments and commitments Sagittarians would be able to prevail in compatible affairs or relationships through the year.
Sagittarius singles compatibility:
Sagittarius singles are usually found to be quite impulsive in this period. This might make you blurt unwanted things and end up in a delicate situation as far as your relationship is concerned. But then do not take this to heart as your partner might appreciate your honesty and would come in for a compatible relationship around the end of the year.
Sagittarius in a relationship compatibility:
The Sagittarians in a relationship are in for a rock-solid relationship which would be highly compatible all through the year of 2017. Trust and honesty would forge your relationship into something amazing as the year progresses.
Sagittarius compatibility:
Sagittarians would have a compatible relationship with natives born under the Sun signs of Pisces, Gemini and Cancer for the year 2017. However the natives are advised to stay away from union of Taurus, Aquarius and Virgo guys as they would not be able to fulfil your love and romantic needs whole-heartedly for the period.
Sagittarius Love compatibility:
If you are ready to be quite flexible and understanding then you are promised a compatible relationship with your partner in the love front for the year ahead. Else you are headed toward splits-ville. The best way to earn the heart of your loved one is by showering praises and gifts on them. Also try to control your temper for compatible love affair with your partners.
Sagittarius Romance compatibility:
Sagittarian natives are likely to trip over potential partners in common functions or social gatherings. Then love would sprout resulting in a romantic compatible affair with them. This is most likely to take place around August 2017 when Venus aids your romance on a positive note. You need to hone your communication skills and personality in order for romantic compatibility to flourish in your life for now.
Related Links
---