Aries Love Compatibility Horoscope 2017
---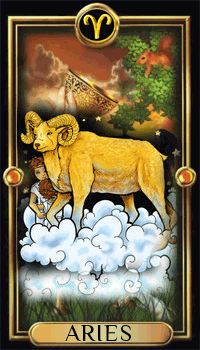 For Aries natives, Jupiter would be in the friendly house of Leo till August 2017. This would bless them with a compatible and romantic relationship that involves joy and happiness. Then Jupiter moves to the house of Virgo when the relationship turns quite serious, however compatible relations would still persist.
Saturn would be moving over to the house of Cancer in June 2017 when the emphasis would be on compatibility with family and friends in life. Some level of incompatibility might be felt in your relationships during this period.
The compatibility of Aries people would be quite tumultuous in the year of 2017 thanks to the occurrence of two eclipses in the house of relationships. Compatibility for love and romance would take the back-seat while there would be better compatibility in your areas of career and friendship. You would have the freedom of choice and independence in your relationship areas for the year.
Best and Worst compatibility signs for 2020
Your most compatible signs for 2017:
Sagittarius, Aquarius,

Leo, Libra, Gemini.
Your least compatible signs for 2017:
Virgo

Scorpio
Best and Worst love match signs for 2020
Best Aries Love Match for 2017:
Sagittarius, Aquarius,

Leo, Libra, Gemini.
Worst Aries Love Match for 2017:
Sagittarius, Aquarius,

Leo, Libra, Gemini.
The single ones and those already in a marriage or relationship would find their compatibility levels more or less at the same level as it was in year 2016. However some volatility is to be expected when it comes to compatible relationship with your loved ones. Big adjustments and commitments are a must if you need to sail through a peaceful period.
Aries people are advised to tune into compatible relations with partner else serious threats loom large around. Unexpected twists and turns are likely then. If cordial relations are maintained then there would be a sense of equality and compatibility with your partners.
The single ones are likely to experience a compatible affair with a known friend, relative or colleague through the course of 2017. Professional likings might also rope in a compatible partner for you. You are advised to settle down with natives who seem to have a listening ear for you.
Aries singles compatibility:
Being an Aries , you are headstrong and aggressive, hence if you have a liking for a particular person, then this is likely to turn into a favourable compatible affair. You would be confident of your choice and the going would be smooth. But then compatibility issues might arise if your energy levels are not matched up.
Aries in a relationship compatibility:
The year 2017 would be a great year for you Aries. Though independent in life, though you seem to need none in life, this is a time when you feel that you have found the right person to linger around in life, a much compatible person for the asking.
Aries compatibility:
Aries natives are reserved when it comes to expressing their love and romance. You take a lot of time to express your feelings and forge a compatible relationship. A friend would help you to propose to the person you are interested in. However do not procrastinate as your partner might then be taken up by another potential partner. The middle of 2017 seems to bring in quite a compatible relationship with your partner.
Aries Love compatibility:
For the year 2017, Aries people are likely to enter into a compatible love relationship with like-minded signs like Leo, Cancer and Pisces. These relationships would be very compatible and fun to have for 2017. However do avoid signs like Capricorn and Sagittarius as incompatible issues might arise now and then.
Aries Romance compatibility:
Aries natives would enjoy romantic compatibility with their partners and the single ones are likely to tie the knot during the third quarter of the year. Much romance is on the cards for the Aries people. However do not be overtly sensuous and try to control your emotions and romance when it comes to handling your partner in a public place. There would be no dearth for romantic compatibility for the sensuous and erotic Arians in 2017.
Related Links
---