Aquarius Love Compatibility Horoscope 2017
---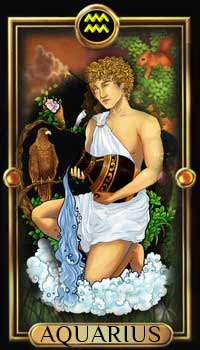 Jupiter would be in your opposite house of Leo for the first half of the year 2017. This would bring about incompatibility issues with partner and hurdles in your love life. But then commitment shall bring in goodness and better compatibility in the love life of Aquarius guys. When Jupiter enters the house of Virgo in August 2017, you are in for indulgences of sort that might mar your relationship and bring about incompatibility in your love life, hence beware.
Saturn in the house of Gemini till June 2017 would be conducive for compatible relationships for Aquarius guys. Commitment and better understanding shall work wonders in your love life. When Saturn enters Cancer after mid-2017, a sense of discipline would enter your life bringing about compatibility in your personal life.
The 7th house of Love and marriage is not emphasised much for Aquarius guys in 2017. Hence the relationship for most of the Aquarius people remains status quo for the period. But then you would get more freedom in your love life that compatibility issues would be over-run and you would be into much socializing for the period.
This would be a period when adjustments and understanding shall only bring compatibility in your personal life and relationships. It is better to settle down with a partner who understands your need for socialising and travel. Generally Aquarius people are tied up with partners who really do not understand them and hence end up in totally incompatible relationships.
Best and Worst compatibility signs for 2017
Your most compatible signs for 2017:
Libra, Gemini,

Sagittarius, Aries, Leo.
Your least compatible signs for 2017:
Cancer

Virgo
Best and Worst love match signs for 2017
Best Aquarius Love Match for 2017:
Aries

Sagittarius and Taurus.
Worst Aquarius Love Match for 2017:
Virgo

Pisces and Gemini.
The effect of Uranus in this year 2017 for Aquarian people would be quite enormous that many of you are likely to rebel bringing in incompatibility in life. There might be incompatible issues in your professional life as well through the year.
Some single Aquarians might get into relationship with multiple partners ending up in incompatible issues all around. Partners come and go in your life. Emotions, feelings, lust and sex would fill up your love life. An Ex who was totally incompatible with you might come back in your life much to your chagrin.
Around August there would be talks of marriage for those in a relationship. However natives are advised to stay away from commitments till the end of the year to check the credibility and the compatibility of the partner you are dealing with.
Those waiting for a divorce or legal separation among the Aquarians would find some compatible romantic inclinations this year. Socializing would be bringing this person in your life, however make sure that you get your due credit and freedom in life. Else you are heading towards a totally incompatible relationship.
The married ones among the Aquarians are likely to enter a turbulent phase when your relationship would be in doldrums. The single ones would like to get married and those married would crave solitude. The grass is always greener on the other side Aquarius.
The year 2017 would bring about new compatible friends in your life and would wean out the incompatible opportunistic relations out of the life of Aquarians.
Aquarius singles compatibility:
The Aquarians who are single would be finding it a difficult to express their love to the partner of interest till now. But now the year ahead hold new promises, in that you would be able to express your true love for your partner and end up in a compatible relationship with him or her.
Aquarius in a relationship compatibility:
Aquarius people generally have a good mental and emotional connection with their partner when they are in a compatible marriage or relationship. This year your relationship becomes ever more stronger and you would be able to voice your feelings in a more tangible tone for now.
Aquarius compatibility:
Aquarius people are asked to look out for potential partners from Aries, Taurus and Sagittarius Sun signs as they would be loving and the partnership would prove lucky for the natives. Aquarians are asked to keep off union with Gemini, Virgo and Pisces guys because they are not meant to be your type of person for the year ahead.
Aquarius Love compatibility:
For the year 2017, Aquarius natives would have much compatibility in their love front. They would be meeting the love of their life in a social gathering or function and forge a compatible relationship with them. Some of you might locate more than one compatible love partner, then you need to weed out the unwanted one out of your life in the trickiest way possible. Seek advise from your loved ones for compatible relationship for the long run.
Aquarius Romance compatibility:
Compatibility in the romantic front would be just great for Aquarius guys in year 2017. Happiness and goodness is assured in their love life. The middle of the year would bring in good romantic and compatible encounters for some Aquarius people. The end of the year would see the Aquarians winding up the period with their romantic partner in a more compatible way unlike the past few years.
Related Links
---