A partner you trusted just about implicitly may not be handling their end of a joint financial situation with integrity. Regardless of your financial situation at that time, you need to watch your finances like a hawk .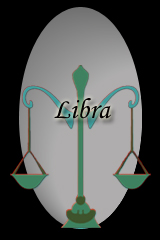 LOVE
You'll encourage, promote and enjoy domestic bliss for the beginning of the year. Embrace the generous goodwill between you and that friendly, good-looking flirt, and things will develop harmoniously. Whether you're with a brand-new partner or someone familiar, January through March will spark great adventures, newfound devotion and shared jokes. Nothing will get in the way of your love life this year, because you're super confident and full of charming, wacky enthusiasm.
Your openness to circumstance and to the people that surround you will get you through any troubles, and a loving relationship will spice up the home front even more, later in the year. With your domestic bent and your amour's spontaneity, life will shape up and move you toward making and achieving even the most ambitious romantic goals for next year.
CAREER
The workplace will be abuzz with new procedures and personnel -- and maybe even a re-organization is on the cards during the first two months of this year. You should enjoy it quite a bit, as you're truly in your element dealing with interpersonal relations. Something surprising might develop between you and a supervisor, especially around the middle of March, and you could find yourself filling a radically different role in the organization. Financial issues will require extra attention throughout the year, and you will find it more difficult than usual to convince others of their responsibilities. It might be necessary to seize control of spending late in the year if you want to avoid departmental ruin.
Work hard to acknowledge and satisfy all parties, no matter how you feel about them going into the situation. You can indeed do well by doing good.
Your customer base should grow a fair amount late in the year and keep growing through at least spring of 2007. Workplace morale will grow along with it, and you will enjoy positive attention from above for helping to make this happen. Overall you'll see plenty of challenges this year, meet them head-on and win praise for your efforts -- even after those rare times you don't succeed. It's a great time for your career advancement, so try to always have an eye on your personal goals, even as you help your team and your clients meet theirs.