All debts and loans now vanish. You would be able to save ample wealth for future. However be cautious of your moves, else you might land in trouble.
Marital life and love life would be good during the transit period. Better communication with partner or spouse would do wonders with your relationships. Love and romance would be in the air. However be wary of your moves in social circles as trouble lurks around. You would command good health and cheer through the period. Bring your talents and creativity to the fore. Some of your long-lost dreams and ambitions would be met thanks to the Jupiter transit. In general, this Guru Peyarchi would be much favorable for Dhanus Rasi natives.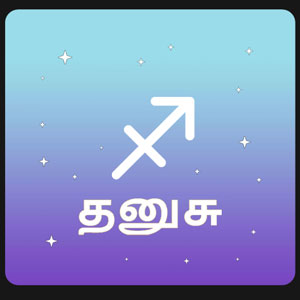 Positive Effects
• Natives would have good health through the year.
• Chronic ailments which have been bothering now disappear.
• If you are not wary, you might land in a financial turmoil.
• The singles get married this year.
Negative Effects
• Your financial stability is altered.
• Career woes galore.
• Not a time for relocation as well.
Employees
You would earn name and fame in your work place this period. After the Jupiter transit, the natives get good job position as per their wishes. Your works and efforts get recognized these days. You would get into the good books of your authorities in career. Also would get the co-operation of colleagues in work place. Overseas travel on the cards, owing to training regarding your field of interest. You would take new efforts towards career enhancement as Jupiter transits.
Agriculturists
Water resources for your crops would be abundant these days. You would get good yields thanks to application of new scenic techniques. You would be able to secure loans for the bringing up of crops this season. Law suits related to hereditary property would get settled now. You would get the good connections and advise of elders in the field these days.
Women
Those awaiting marriage, would be able to tie the knot after the transit of Jupiter . Some pilgrimage related travel on the cards. If you are into career, then you would get promotions as per your efforts. Relationship issues with paternal links would get resolved now. Long-pending buying of property would materialize now. Major changes around would revamp your lifestyle. You would also be able to get good rapport with family members.
Students
There would be good development in your studies these days. You would turn out successful in competitions related to studies and extra-curricular activities. Would get the good blessings of teachers and parents during this time. As per your liking you would secure a good place for higher studies. Those pursuing research would be successful in their endeavors. The aspiring ones would secure a good job position of their choice.
Politicians
You would get close to higher-ups in your party. Would earn repute among party cadres for now. Your intellect would take you places in your political works. Elders would lend a helping hand for your political aspirations during the transit period. You would be able to overcome hindrances with your grit and determination. False friends would come to the light these days.
Artisans
New interests of you would come to the fore this season. You would get the goodwill of higher-ups in your art field. Particularly those into dance and drama would be able to steal the limelight during the Jupiter transit period. You would be able to learn new techniques now. Would get the good support of family and friends for your works. Be patient and cautious enough, then you would be able to win accolades for your pursuits.
Business People
If you are into family business, then this time would be quite ripe to reap the benefits. Co-operative deals in business would see good returns for now. Spouse/partner and family would be a good source of inspiration for your business deals. You would invest a good deal of funds into your business these days, and the results would be favorable. Those into software business would see good results for now.
Guru Peyarchi Palangal for 12 Rasis or Effects of Jupiter transit on the 12 Moon signs