On a psychic level, it can create a black magician. It can also give the capacity for profound research. Once this will is mastered, it can create the strongest of spiritual aspirations, the will to negate the ego. The Sun is very inauspicious for them.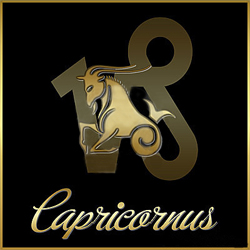 Moon:
The Moon, as ruler of house 7, indicates their strong need for relationship to balance out their generally cold disposition. It shows their strong social sense, which is not really sensitive but rather detached, controlling or political. The Moon is generally neutral but some consider it inauspicious (as a benefic ruling an angle).
Mars:
Mars, as ruler of houses 4 and 11, shows their desire for property and income. It also gives them a harsh or penetrating power of mind that can, if afflicted, lead to violence. It is inauspicious.
Mercury:
Mercury, as ruler of houses 6 and 9, shows their ambivalence towards principles and ideals, which can lead to conflict. On the positive side, they can be extremely hard workers and give dedicated service to manifest materially what they really believe in. It is generally auspicious but can function negatively if the lord of the sixth is afflicted.
Jupiter:
Jupiter, as ruler of houses 3 and 12, shows the Capricorn's tendency towards loss or sorrow through too much greed and manipulative attitudes. They can suffer through friends or alliances and are often forced to make it on their own.
Venus:
Venus, as ruler of houses 5 and 10, gives Capricorn a great power of success through an adaptation of grace to their strong but often unrefined nature. On a lower level, this may be utilitarianism, on a higher level, simple fitness of form where content shines unhindered by glamour. Venus is very auspicious for them and gives Raja Yoga.
Saturn:
Saturn, as ruler of houses 1 and 2, shows how intimately their self sense is bound up with work and livelihood, They are often harsh in speech and forced to work hard in life. Yet they are also self disciplined and through their persistence can make great and enduring accomplishments in the long run. Saturn is generally auspicious as the lord of the ascendant.
Overall:
Mars and Saturn (malefic lords of houses 1 and 4) combined can give an aggressive mind that may be violent and seek power at all costs. The Sun may work in this way like Mars. Venus by itself gives Raja Yoga or great prestige. Venus with Mercury (rulers of houses 9 and 10) give Raja Yoga as well as spiritual development. Saturn and Mercury (rulers of houses 1 and 9) enhance spirituality.
As a cardinal and earth sign, Capricorns act with force and substance. Their planets act slowly but strongly and often with an obstinate determination. They usually win out in the end through a long-term plodding action.