Rahu and Ketu are called as the shadow planets and their transit through the zodiac sky impacts our lives heavily. This Rahu-Ketu transit helps us to focus better and progress ahead in life. Generally the transit of Rahu and Ketu is acknowledged with great fervor as people fear it causes bad effects. Hence its transit during 2019 Is of great importance.
The effect of this Rahu-Ketu pyearchi on the 12 zodiac signs means a lot for us.
Find out its impact on the 12 moon signs.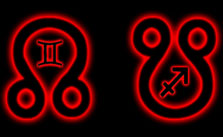 Rahu-Ketu Peyarchi palangal (2019 - 2020)
Rahu Transit - Favorable
Moon Signs
Rahu Transit - Unfavorable
Moon Signs
Aries (Mesha)
Taurus (Rishabha)
Leo (Simha)
Gemini (Mithuna)
Virgo (Kanni)
Cancer (Kataka)
Capricorn (Makara)
Scorpio (Vrischikha)
Ketu Transit - Favorable
Moon Signs
Ketu Transit - Unfavorable
Moon Signs
Cancer (Kataka)
Taurus (Rishabha)
Libra (Tula)
Gemini (Mithuna)
Aquarius (Kumbha)
Scorpio (Vrischikha)
Pisces (Meena)
Sagittarius (Dhanus)
Rahu-Ketu Peyarchi Palangal for 12 Signs for (2019 - 2020)