penumbral shadow, which includes the Pacific Ocean and most of South America.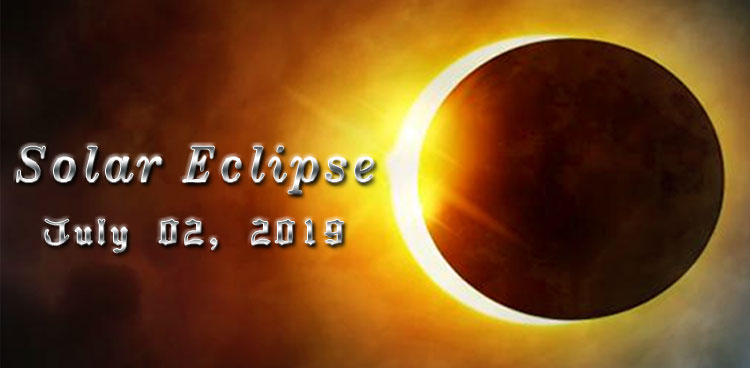 Total Solar Eclipse July 2019 Times and Dates
• Los Angeles – July 2 at 12:16 pm
• New York – July 2 at 3:16 pm
• London – July 2 at 8:16 pm
• Delhi – July 3 at 1:46 am
• Sydney – July 3 at 5:16 am
What is a Solar Eclipse?
A solar eclipse is just like a regular new moon where the Moon passes between the Earth and the Sun. However, a solar eclipse is more powerful because the Moon darkens the Sun completely. Solar Eclipse of July 2019 is a total solar eclipse so none of the Sun will be visible as the moon masks the entire Sun from the earth. The New moon in general represents the end of one cycle and the beginning of a new cycle. A new moon influence lasts for about four weeks but a solar eclipse effect lasts about six months. Hence be prepared to take in the effects of the eclipse till around the end of the year.
During a New Moon the luminaries Sun and Moon are in conjunction (0 deg) and this is one of the important aspect in astrology. This is a time for a fresh start. All the options are in front of you and now it is your time to move ahead. This solar eclipse would compliment the July 16 Lunar Eclipse. The effects of these eclipses are felt till around December 2019 when another eclipse pair is due.
Total Solar Eclipse July 2019 – Astrology
The total solar eclipse of July 02, 2019 occurs in the zodiac sign of Cancer at 10°37′. The solar eclipse is in sextile relation (60 deg) with Uranus and this would be a positive influence on the whole. This is quite a fortunate eclipse to behold. People having their personal planets and points approximately 6 to 16 degrees of the Cardinal signs of Aries, Cancer, Libra and Capricorn would feel the impact more.
Hence be prepared for a very intense July. The days have the potential to clean, purify and eradicate our old values, systems and beliefs. It would be a good time to let go off of the past and close some not so pleasant things and events from our lives. Also this is not a time to let things half way, instead natives are advised to complete tasks taking advantage of the eclipse energy around.
Total Solar Eclipses are potent enough on their own, but the eclipse in Cancer opposes Saturn in Capricorn. The July 2019 solar eclipse is quite positive. It brings good health, honor and riches. This is an excellent eclipse for enjoying good times with friends and especially your family as it occurs in the 4th house of home. The eclipse brings confrontations to an end and brings about peace dialogues across the globe. Kim and Trump need to get a clue..!!
July 2019 Solar Eclipse effects on the Zodiac Signs
Aries
Focus the energy of the solar eclipse in your personal life. Opportunities abound in deals related to land and real estate as the eclipse happens in your 4th house. Focus on home, renovations, relocation and the like for the period. Mother and maternal relationships need care.
Taurus
The solar eclipse of July 2019 helps to expand the social life of Taurus folks. You would get good recognition in society. Your creativity gets enhanced and earns you name and fame. Spend quality time expanding your social circle during the eclipse period.
Gemini
As the July 2019 eclipse sets in, you would be communicating with quite a lot of people around, Gemini. Manage your resources thoughtfully, try to invest reasonably as well. Make sure that you stick to your personal values and virtues in life.
Cancer
The solar eclipse of July advises Cancer folks to pursue their dreams and passions if they want to get their wishes in life fulfilled. A total change of your personal image is on the cards for the period. Do not heed to the criticism of those around these days.
Leo
The solar eclipse of July 2019 asks Leo folks to let go off of the past and look out to the future for positive prospects in life. However your past might continue to haunt you. Fear might hinder your future prospects. Get into a new level of perspective for goodness in life.
Virgo
Virgo guys are asked to look out for strength and support from family and friends as the solar eclipse of July 2019 occurs and as it gets you stuck in places. Stick to the advises of partner to promote yourself in the society. Some massive impacts are likely owing to the same.
Libra
Libra guys would be under the influence of paternal figures during the solar eclipse of July 2019 as it occurs in their 9th house. There would be an increase in your pace of work. There would be scope for higher education and promotions in career. Your work gets noticed.
Scorpio
The solar eclipse of July 2019 advises Scorpio guys to change their personal goals and ambitions without taking hasty decisions on their part. There would be interest in academic pursuits. Also your spiritual ambitions materialize this period. New avenues open up before you for progress.
Sagittarius
The eclipse of the Sun that takes place in July 2019 will be asking the Sages to analyse their financial standing. This would be a good time to negotiate financial deals related to family and property. There would be some troubles in relationships though during the period.
Capricorn
Capricorn natives are asked not to push or put more effort onto something they do not have their mind on. It would be just a waste of your resources. There would be plenty of opposition in professional and personal matters for the Caps during the Eclipse season. Legal matters come in your favour and you might earn new relationships in life.
Aquarius
Some of your long-held beliefs and traditions would be thrown out into the wind thanks to the Solar eclipse of July 2019. You would be lured to new ventures though you have a lot in the pipeline. Care should be given for health and domestic affairs.
Pisces
The solar eclipse of July 2019 advises the Pisces people to concentrate on bettering their relationship with the loved ones rather than succumbing to the pressures of the society around. You ought to express your creative talents now. There would be much fun and romance as the eclipse sets in. Enjoy the good things in life.
Related Links
---