Though this combination gets along easily initially as time goes it would be difficult for both to keep the relationship and sparks alive.
Both their temperaments are completely worlds apart in that the Virgo man is fully organized and the Aries woman loves chaos and impulsive living.
Aries loves too much of adventure in life while the Virgo man would be scared of that. Life would be full of challenges for both all through their lives.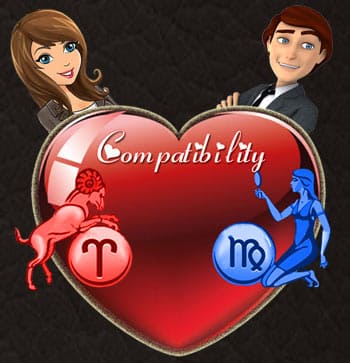 Famous Aries-Virgo Couple
• Reese Witherspoon and Ryan Philippe
Compatibility for Romance
Though this combination seems to hold good promises for a romantic relationship, not much spark and passion would be involved here. Virgo would be more bent on the small things in day to day life rather than romancing around while the Aries would be busy with her larger than life expectations, that there would be literally not much room for romance and sensual feelings.
Compatibility for Friendship
There would be better compatibility with an Aries woman and a Virgo man as friends in life. A healthy approach and common interest in sports and physical activities would take them far in the land of comradeship.
Compatibility for Marriage
There would not be much compatibility in this duo when marriage is concerned. Things might turn out favorable when the Virgo man is not much strong enough to be easily taken over by the Aries woman in life.
Compatibility for Sex
Sex would be a sort of an addiction for both but they would not confuse this with the relationship as a whole. Aries would find the Virgo man too much picky when he is more interested on the finer details like the cleanliness of the sheets on the bed, the shower to be taken and the like. There would not be much life involved here.
The End game
The Aries woman gets constantly frustrated by the acts of the perfectionist Virgo male that the going would be a lot tougher than they had thought initially. The Virgo Man would be the major source of the endgame in this combo.
www.findyourfate.com Rating 2/10
Cancer Leo Virgo Libra Scorpio Sagittarius Capricorn Aquarius Pisces Taurus Gemini