The Direct Station occurs in Scorpio (16deg 06") on November 20, 2019 at 7:12 pm UT, 2:12 pm EST and 11:12 am PST.
Mercury ends the Post-Shadow on December 7, 2019 at 5:55 pm UT, 12:55 pm EST and 9:55 am PST.
Did you know that the last Mercury Retrograde in Scorpio occurred in October 2014? Hence you can look for similar events from that period.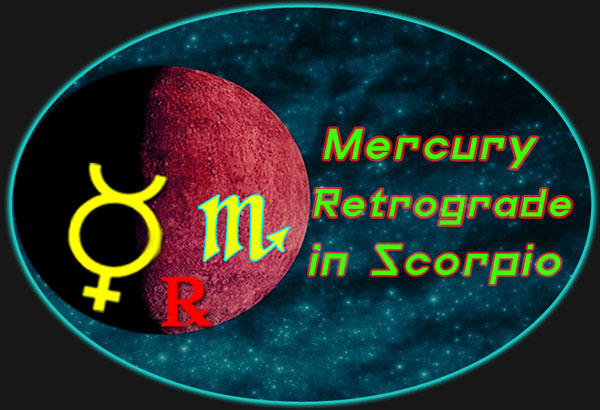 In which zodiac sign does this Mercury retrograde occurs?
The last phase of Mercury retrograde of 2019 occurs in the zodiac sign of Scorpio, a watery sign. This would bring about turmoils of emotions around for the period.
Scorpio has a tendency to control things. With the Mercury retrograde happening here, the cause of reason is left to the wind. Scorpio starts to question everything, suddenly things seem to be quite complex and a sense of uncertainty looms around this Mercury retrograde period.
The in-born nature of Scorpios' feeling of suspicion and insecurity now comes to the fore. Things that you have not dealt with till date in life now surface from nowhere. This is a good time to bank on your intuition. Remove self-doubt and get out of troubled situations with self-effort. In a nutshell though this Mercury retrograde might annoy you, it will not annihilate you, instead it makes you stronger by the day.
Be prepared to face unjust and immoral things around that might break social rules during this Mercury retrograde. Make peace with yourself and those around. Do note that certain secretive things of Scorpion nature would see the light these days.
What is the astrology behind this Mercury Retrograde?
As Mercury goes retrograde in October 2019 it would be in conjunction (0 deg) with the planets Venus and Jupiter in Scorpio. And towards the end of November, Mercury would be in conjunction with Mars in the zodiac house of Libra.
Natives born under the Ascendant or Moon sign of Aries, Taurus, Leo, Scorpio and Sagittarius would have financial issues of sorts during this mercury retrograde.
As Mercury is in close quarters with the luminary Sun, it gets into combustion as well, hence be cautious. This might bring about rifts around.
What are the effects of this 2019 October Mercury Retrograde on the zodiac signs?
Aries
Usually Mercury retrogrades bring your stubborn nature to the fore. You become very restless and your mood swings like hell.
This particular Mercury retrograde of October 2019 occurs in your 8th house. This inclines you more towards religion, spirituality and philosophy, hitherto not in your arena. Your health tends to be quite good these days. And be prepared for some sudden luck and fortune spells these days.
Taurus
In general, Mercury retrogrades affect the communication part of Taurus natives. They find it difficult to express themselves more freely. This brings about friction at home and work. It also affects their decision-making ability bringing about a hazy atmosphere around. However Taurus make good money when Mercury goes retrograde.
This Mercury retrograde of October 2019 happens in your 7th house of marriage and partnership. It would ring the marriage bells for the single Taurus folks out there. Marital life would be cordial and there would be much love and romance in the air for now.
Gemini
Generally Gemini guys would feel impediments with their communications and personal development during Mercury retrograde periods. Staying away from stressful situations would be a good bet for the period.
This retrograde of Mercury occurs in your 6th house. And this might weaken the Gemini natives both physically and mentally. You are likely to act harsh to others around and hurt people's emotions. Lay low.
Cancer
Usually Mercury retrograde makes Cancer natives quite indecisive. They would lack the initiative to start anything new in life. Not a good time for personal interactions as well.
And the Mercury retrograde of October 2019 happens in your 5th house. This might hinder your love pursuits. Also luck and fortune shall elude you. There might be birth in the family bringing joy though.
Leo
Mercury retrograde has the dubious distinction of confusing and troubling Leo natives. They seem to be in cross-roads unable to find the right direction. Staying away from worries and anxieties and getting to the root of problems might save them from a headache.
The Mercury retrograde of October 2019 happens in the 4th house for Leo folks. This bestows sudden flow of wealth for the natives. A life of royalty and luxury is in store for some Leo folks this season. But then domestic welfare and happiness might be at stake these days.
Virgo
Mercury retrogrades tamper the nervous system of Virgo natives. They would not be able to communicate properly. This results in poor perosonal and professional performance during the period. You are misunderstood for most of the time.
This Mercury retrograde happens in your 3rd house. This gives courage and strength to Virgo people. You would be more in for adventure. However this period migtht land you in risky situations, hence be cautious.
Libra
Your social life and strategic approach usually gets hindered when Mercury is in retrograde motion. This would affect your love or marital life as well. It is best to avoid hasty and important decisions regarding life for now.
The Mercury retrograde of October 2019 happens in your 2nd house. This improves your intellectual capacity. It gives you name and fame and a secured position in societal standing. Your finances might get hindered for a while, play it safe.
Scorpio
Inter-personal relationships get a beating when Scorpio natives are through a Mercury retrograde phase. Particularly familial ties get hindered. This would be a great time to do a renovation or repair work. Bring your creative talents to the fore.
The Mercury retrograde of October 2019 happens in your house. This would make you quite hasty in your apporach to important situations. Hence you might land in troubles. Give a second thought before venturing into new schemes.
Sagittarius
Mercury retrograde periods generally make the Sages more agitated and confused. This gives them a hard time to handle situations. There would be lot of misunderstandings at home and work. Only tact and diplomacy would help them tide over the situations.
This Mercury retrograde happens in your 12th house. This helps you to win over enemies. Also you would become more spiritually bent these days.
Capricorn
Mercury retrogrades usually act quite favorably towards Capricorns. This is because they solve issues rather quickly during this phase. Also it helps them to forge new ties that would be fruitful for them in the long run.
The 11th house would be hosting the Mercury retrograde of 2019 for Caps. This promises gains and happiness for the natives. General health also is promised.
Aquarius
Communications go haywire for Aquarius natives when Mercury is retrograding around. There would be difficulty in expressing yourself to others. Not a good time to start important projects as well as they might meet with impediments.
The Mercury retrograde of October 2019 takes place in your 10th house. This bestows much finances and property by way of legacy or inheritance for the natives during this period. Your finances would be quite good. However there might be occasional career hindrances.
Pisces
Usually Mercury retrograde makes the Pisces to withdraw themselves. This might affect personal and professional ties during the period. Resorting to some meditations and spiritual works would help them bring peace.
This particular Mercury retrograde happens in your 9th house. This blesses the natives with much knowledge and prowess. You would come up in your career path. Prosperity however might get hindered. Paternal relationships need to be handled cautiously.
Related Links
---
• Mercury Retrograde - July 2019