The second 2018 Mercury Retrograde occurs from from July 25 - August 11, 2018 in the fiery zodiac house of Leo.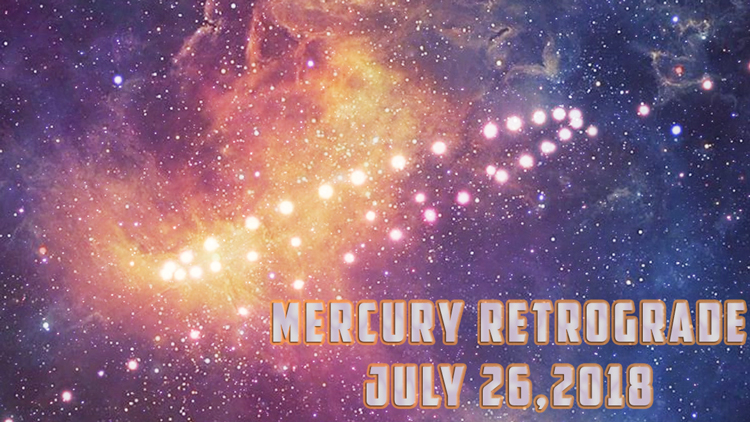 Important Dates
Mercury enters the retrograde zone - July 7, 2018 at 11°31′ Leo.
Mercury stationary retrograde - July 26, 2018 at 23°27′ Leo.
Mercury Stationary Direct - August 11, 2018 at 11°31′ Leo.
Mercury leaves the retrograde zone - September 2, 2018 at 23°27′ Leo.
Though confusion and complexities plague you through the Mercury retrograde period, some sort of personal clarity comes on August 9th when the retrograde Mercury conjoins Sun. Then on the 10th of August, once again the effects of Mercury retrograde would be felt sharply thanks to the square between Jupiter and retrograde Mercury. As Mercury turns direct on 11th August, a lunar eclipse also happens in Leo. This would bring more light into your life.
Mercury retrograde - Astrological Implications
The Mercury retrograde of July 2018 occurs in the fiery sign of Leo. The entire phase of this July 2018 Mercury retrograde (including the pre-retrograde, retrograde, post-retrograde, shadow period) happens in the zodiac sign of Leo. Leo is a sign that depicts generosity, sociality and creativeness. Leo is ruled by the Sun. The Mercury retrograde in Leo, brings about issues of pride and ego up to the fore. You ought to make decisions regarding whether you want to steal the limelight or share it with others up the dais. Also this would be an ideal time to bring your creativity to the fore.
Mercury retrograding in Leo would also bring about high drama and some fierce energy levels around. Impatience, frustrations, mishaps and malfunctions follow. This Mercury retrograde coincides with the Mars going retrograde in the opposite sign of Leo, being Aquarius. So the level of frustrations and complications would be quite high enough, tough to handle though. Also the eclipse activity around this period- a lunar eclipse is due on 27-28 July, might bring some revelations or secrets to the fore.
Advise for the Period
During this Mercury retrograde in July 2018, lower your expectations about people and situations around. In this way you can avoid disappointments of sorts. There might be misunderstandings with higher -ups in work place, stay low. Love and romance would enter a confusing stage, there might be heated arguments, disappointments and dissatisfactions loom around in relationships. Wait and watch till Mercury retrograde effect wanes off.