Mercury Retrograde In Aries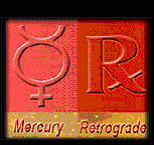 1. Mercury Enters its shadow period on March 8th 2018
2. Mercury appears retrograde March 23rd - April 15th
3. Mercury direct on April 15th
4. Mercury Out Of Shadow period - May 3rd 2018.
When Mercury retrogrades in the zodiac sign of Aries expect impulsive, harsh and aggressive events around you as is the nature of Aries.
Mercury Retrograde
When a planet appears to be moving backwards when viewed from the earth it is said to be retrograding. Actually there is no backward movement, but it appears so from down here. Generally Mercury goes retrograde three to four times in a year. When it retrogrades, communications and learning ruled by it are greatly affected.
Also the house where it retrogrades is also affected. Mercury is a fast moving planet, however when it retrogrades, it moves very slowly, which is less than 40 minutes per day and hence things seem to take time to find a shape.
2018 March Mercury Retrograde
The first Mercury retrograde for year 2018 starts in March 22, in the fiery house of Aries. This forebodes accidents and injuries around us. Make sure that equipments are made fit before the retrograde period. Aries also indicates war and violence. Expect uprisings around the globe. Keep your temper under check and avoid fights or arguments. Instead focus your stored up Aries energy into something credible.
Be cautious around March 29th to 31st when Mercury would be at a very critical degree of 13 deg Aries. This brings about some difficult energy around. You might be provoked easily.
This Mercury retrograde will make 3 major aspects during the retrograde. Mercury squares Mars in Capricorn on April 4th, and this can be a time of major anger, frustration, annoyance. Keep busy, but be cautious. Mercury will also square Saturn in Capricorn on April 5th, and we can feel stuck, confined, restricted, limited, and this can make us more frustrated and annoyed. Don't give in to impulse, and try to find some space. Mercury will conjunct the Sun on April 1st, and this can usually be a positive aspect providing an opportunity to start something afresh.
2018 March - Mercury Retrograde effects on the zodiac signs
Aries
Mercury would be travelling back in your sign. Expect delays and hindrances in your pursuits during this time. You are best advised to lay low and review your works so that you continue ahead when Mercury goes direct.
Taurus
Mercury retrogrades in your 12th house. Hence beware of hidden enemies and shadow deals around. You might get fatigued easily. Be gentle for the time being.
Gemini
For the next three weeks, your ruler Mercury is into retrograde motion. And this occurs in your 11th house. Be cautious about friends and peers this period, gains would be restricted.
Cancer
Cancer, be prepared for yet another bout of Mercury retrograde issues. As Mercury goes retrograde in your 10th house of profession, there might be some career hindrances. Expect some uncertainty in this front for now.
Leo
Mercury is retrograding the 9th house of travel for Leo guys this March 2018. This would throw off your travel plans to the wind. But do not lose hope, double check your travel-plans and back-up on essentials before your venture out.
Virgo
Mercury goes backward or retrograde and this might hinder the financial transactions of Virgo folks for a three week period in March. Trust issues also likely to crop up during the time. Lay low and be honest to the core, come what may.
Libra
For Libra guys, Mercury would be going retrograde in their 7th house of partnership deals and marriage. Expect the unexpected in these areas. Use tact and diplomacy to survive this period.
Scorpio
As Mercury retrogrades in your 6th house, there might be health issues and chaos around. Communications go haywire. Back up vitals, and focus your energy towards constructive purposes.
Sagittarius
For Sagittarius natives, Mercury goes retrograde in their 5th house this March 2018. Be prepared for troubles from children if any in your lives, also speculative deals ought to be avoided. Return to unfinished tasks and do not start anything for now.
Capricorn
Mercury is retrograding in the 4th house of Aries for Capricorn natives. This would bring about loss of domestic welfare/happiness. Also your work-home balance would be toppled. Career meets with hindrances.
Aquarius
Aquarius people would see Mercury retrograding in their 3rd house of Aries. Do back up vitals and double check your plans for the period.
Pisces
For the next three weeks Mercury goes retrograde in your 2nd house of finances. This would hinder all your financial deals. Follow the flow and rest till Mercury goes direct when your finances would be back on track.